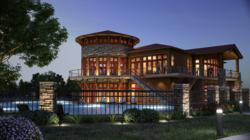 This is our way of showing support for both our community and our prospective buyers
Ellicottville, NY (PRWEB) July 27, 2011
The developers of EllicottVillas are sweetening the deal on a trip to Ellicottville this summer. For a limited time, they are offering preview stays to select guests, providing a firsthand look at the spectacular residence club along with the added incentive of an Ellicottville Gift Card and a credit towards their purchase if they decide to buy a fractional interest following their stay.
"The summer months are a perfect time to come and see what we're all about," said Ken Bihl, Director of Residence Marketing and Sales for EllicottVillas, a development spearheaded by local entrepreneurs Mark and Kathleen Balus and managed by DCM Hospitality. "When you stay at EllicottVillas, you get to enjoy the luxury and pampering of a club atmosphere just moments from a four-season playground that literally has something for everyone, from hiking, biking and golfing to shopping, dining and live entertainment."
The Drive and Play program is geared to qualified buyers within driving distance. When they make an appointment to tour EllicottVillas, they also receive a $50 Ellicottville Gift Card redeemable at any local business that is a member of the Ellicottville Chamber of Commerce.
The Stay and Play program offers an opportunity to rent a three- or four-bedroom condominium at EllicottVillas based on the existing rate schedule and availability. Qualified guests who stay for a weekend receive a $150 Ellicottville Gift Card and those who remain for an entire week receive a $250 card. In addition, prospective buyers who decide to buy a fractional interest in EllicottVillas after their visit receive a credit towards their purchase equal to the rental amount.
"This is our way of showing support for both our community and our prospective buyers," noted Bihl. "Homebuyers win because they get the chance to experience our club lifestyle for themselves and local businesses win because we're helping to generate interest in the variety of services they offer."
Summer rates at EllicottVillas are $450 per night from Sunday to Thursday and $550 per night on weekends. Included in your stay are all of the conveniences of on-site hospitality such as grocery shopping, bike rentals, dining reservations and more.
ABOUT ELLICOTTVILLAS
An exclusive fractional development, EllicottVillas is unlike anything else in the popular village of Ellicottville, harnessing the experience of renowned DCM Hospitality to deliver five-star services and club amenities in a spectacular community of fully furnished, beautifully landscaped three-story villas. Each villa is designed as a three-story town home with garage, private deck and patio area, offering 3,000 square feet of living space that includes a spacious great room and kitchen, guest room, and first floor master with sitting area and fireplace.
With four units already constructed, three-bedroom and four-bedroom villas are priced at $129,000 and $139,000 per 1/6 fractional share respectively. Special introductory pricing of just $99,000 is also available on two spectacular three-bedroom floor plans, originally intended for whole ownership. Quarterly club fees range from $2,574 to $2,989, subject to change. Once the clubhouse is completed, owners will also have access to a heated pool and jetted spa, fitness centre, games room, owner's lounge and sauna.
Located within walking distance of downtown Ellicottville, the private residence is an easy drive from many Ontario, New York, Ohio and Pennsylvania communities.
FOR MORE INFORMATION
EllicottVillas is located at 6394 Route 242 East in Ellicottville. For more information about the Stay and Play or Drive and Play programs, contact Ken Bihl at (716) 699-6600, send an e-mail to info(at)ellicottvillas(dot)com or visit http://www.ellicottvillas.com.
###