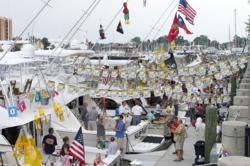 (PRWEB) July 27, 2011
This September 9-11, Hampton, Virginia will once again welcome an estimated 200,000 fun seekers and festival attendees to the 29th annual Hampton Bay Days. The free event, one of the largest family-friendly festivals and largest "Green" events on the entire east coast, will showcase music by national recording artists Marshall Tucker Band, The Temptations Review featuring Dennis Edwards, and Colt Ford.
The fun begins on the City Hall Stage at 8:30 p.m. Friday, September 9 with Marshall Tucker Band. Formed in Spartanburg, SC in 1971, Marshall Tucker Band is one of the most well known Southern rock bands of the 1970s. To date, the group has garnered five gold albums and one platinum album, Carolina Dreams, which features their biggest hit "Heard it in a Love Song." This is the band's 40th anniversary tour.
On Saturday, September 10, The Temptations Review featuring Dennis Edwards will take to the City Hall Stage beginning at 8:30 p.m. After Dennis Edwards replaced founding member David Ruffin in 1968, the group continued on with a string of Top 10 US hits including "Cloud Nine," "Runaway Child , Running Wild," "I Can't Get Next to You," "Just My Imagination (Running Away with Me)," and "Papa Was a Rollin' Stone." Dennis Edwards was inducted into the Rock and Roll Hall of Fame in 1989 as part of The Temptations and continues to tour with his version of the group, The Temptations Review.
At 4:00 p.m. on Sunday, September 11, Colt Ford lends a bit of country hip-hop flavor to the City Hall Stage. A native of Athens, Georgia, Ford (real name Jason Farris Brown) is a former professional golfer turned musician. His debut album "Ride Through This" featured guest appearances from Jermaine Dupri, Adrian Young of No Doubt, Jeremy Popoff of Lit, rapper Bone Crusher, and country singer Jamey Johnson. His third studio album, "Every Chance I Get," was released in May 2011. He was nominated for a 2011 CMT Music Award.
In addition to all of the great musical entertainment, the 29th annual Hampton Bay Days festival will also include over 75 merchandise and craft vendors. During festival weekend, more than 30 food vendors will also be available throughout the downtown area. Those looking for more conventional dining options can choose one of the many eclectic restaurants that line historic Queens Way.
While at Bay Days, don't forget to educate yourself on the value and importance of the Chesapeake Bay by stopping by the Bay Education and Children's Area (Friday - Sunday through 8:00 p.m.), located between Eaton and Wine Streets. Featuring over 20 interactive booths, the area is great way to learn about environmentalism, conservationism, clean water, and one of our area's most important natural resources (and the nation's largest estuary), the Chesapeake Bay. Families will have the opportunity to discover live animal shows, aquatic art workshops, interactive presentations, and children's entertainment all focused on having fun with the "Go Green Generation." This year, Bay Education will showcase Community Lane, a section specifically dedicated to non-profit organizations.
New this year is the Fine Arts Area, featuring over 30 vendor booths. Located in Mill Point Park (100 Eaton Street), at the heart of Hampton Bay Days, this section of the festival will highlight artists selling original work in several categories, including painting, photography, drawing, graphics, and mixed media. Interested vendors are encouraged to check out http://www.baydays.com to register.
Other Bay Days festivities include the Inaugural Hampton Bay Days BBQ Challenge and the Hampton Bay Days 8K Run and Hampton Bay Days Family 1 Mile Fun Run. New this year, the BBQ competition, governed by the rules of the Kansas City Barbeque Society (KCBS) and Hampton Bay Days, will take place on Saturday, September 10. Limited to 25 entries, each team participating will need to submit entries into four categories (to be considered for Grand Champion): beef brisket, pork ribs (loin or spare), pork (shoulder, butt, or picnic), and poultry. Cost of entry is $250 for KCBS members and $275 for non-members. The first ever Hampton Bay Days 8K Run and Hampton Bay Days Family 1 Mile Fun Run will take place Saturday, September 10 and depart from the Crowne Plaza Hampton Marina Hotel at 8:00 a.m. Cost is $25 for the 8K and $15 for the fun run.
The Hampton Bay Days Fireworks Show, presented by WAVY-TV 10 and Fox-43 (spanning 25-minutes), is one of the largest, longest, and most impressive fireworks displays at any festival. In order to clear the Settlers Landing Bridge for the fireworks, the Harbour Centre -Parking Garage and Settlers Landing Road will close at 8:30 p.m. on Saturday, September 10, an hour and a half before the 10:00 p.m. show. Folks who arrive after 8:30 p.m. will not be able to drive on Settlers Landing or park in downtown Hampton.
This year, Hampton Bay Days is pleased to announce Colonel Anthony D. Reyes Garrison Commander, Fort Monroe as 2011 Commodore. A native of East Orange, New Jersey, Col. Anthony D. Reyes was commissioned into the Field Artillery in 1984. His past assignments include Military Assistant to the Assistant Secretary of the Army (Instillations and Environment); Chief of the Army Diversity Office, HDQA, G-1; and Commander, U.S. Army Garrison, Fort Monroe. Reyes' awards and decorations include the Bronze Star, Meritorious Service Medal with three oak leaf clusters, Legion of Merit, Army Commendation Medal with four oak leaf clusters, and Army Achievement Medal with four oak leaf clusters, among countless others. As 2011 Commodore, Col. Reyes will officially open the Hampton Bay Days festival on Wednesday, September 7 at the Hampton Bay Days Commodore's Gala.
The Hampton Bay Days schedule is as follows: Noon-11:00 p.m. on Friday, September 9; 10:00 a.m. - 11:00 p.m. on Saturday, September 10; and Noon- 6:00 p.m. on Sunday September 11. Both festival and musical entertainment admissions are free, though a fee will be charged for crafts, games, and food and beverages.
Parking will be available in the downtown area for $5.00 per vehicle but it is very limited. Non-profit organizations help staff parking lots and proceeds help local charities.
More information on the 29th annual Hampton Bay Days can be obtained by calling
757/ 727-1641 or by visiting http://www.baydays.com. Additional information can be obtained by calling the Hampton Visitor Center at 757/727-1102 or the Hampton 311 Call Center at 757/727-8311. For hotel and package information, check out http://www.visithampton.com.
Those looking for dock space during the 29th annual Hampton bay Days are encouraged to contact marinas located throughout the downtown area, including the Hampton Public Piers (757/727-1276), Customs House Marina (757/868-9375), Bluewater Marina (757/723-6774), Sunset Boating Center (757/722-3325), and Joy's Marina (757/723-1022). Call for details and availability.
In 1982, Hampton Bay Days was created as a unique outlet to educate the public on the importance of the Chesapeake Bay in the Hampton Roads region, as well as the rest of Virginia and Maryland. The goal of the festival is to provide an entertaining atmosphere while ultimately serving a greater purpose, highlighting aspects of the Bay and promoting its upkeep and preservation.
###