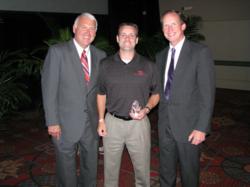 Marlborough, MA. (PRWEB) July 26, 2011
American Profit Recovery, a [collection agency based in Michigan, Massachusetts and North Carolina was recently awarded with the ACA International Education Foundation Fellow. The annual Award recognizes an individual, member company or association unit judged to have made the most significant contribution during the year as an advocate of a foundation program or toward the general achievement of the foundation's goals.
Owner Jeff DiMatteo, one of four partners in the [collection agency received the award on behalf of the company at the ACA International Convention in Dallas, TX this past week in front of 1,100 attendees. The organization represents over 5,000 members in the collection industry. American Profit Recovery was recognized for the annual support of the ACA Educational Foundation which spearheads the consumer advice website http://www.askdoctordebt.com. The selection of the Award recipient was made by a subcommittee made up of members of the ACA Foundation Board.
"ACA International Education Foundation is proud to honor Jeff DiMatteo and American Profit Recovery as an amazing example of a member committed to the values of philanthropy and employee engagement," said Foundation Chairman Chris Wunder. "We are grateful for their support of http://www.askdoctordebt.com and our efforts to promote consumer financial literacy."
The collection agency was also recognized for various other charitable efforts throughout the year. Those include a company-wide effort for the Annual Making Strides Against Breast Cancer Walk in three cities, Earth Day/PLANET Day of Service projects that help to clean up the properties of various nonprofit organizations and a yearly Adopt a Family program around the holidays. In 2010, APR donated over $36,000 to various causes around the country.
"The foundation of this agency is to be different, treat everyone with respect, create a rewarding work environment and help those less fortunate," stated DiMatteo. "This entire company should be proud of this recognition as if affirms we are on the right track and that our contributions to our communities matter."
About American Profit Recovery:
[American Profit Recovery (APR) is a collection agency with offices in Massachusetts, Michigan and North Carolina. Founded in 2004, APR specializes in the collection of third-party debt in industries such as medical/dental, banking, trades, lawn care and other professional services. With early intervention and a strong focus on ethics and diplomacy with consumers, APR works hard to preserve the relationship between client and consumer with an ultimate goal of keeping the business relationship intact. The firm serves approximately 3,500 clients nationwide. American Profit Recovery and their team have earned many awards including Best Places to Work in Collections and Most Influential People in the Collection Industry. 800-711-0023 http://www.americanprofit.net/
# # #