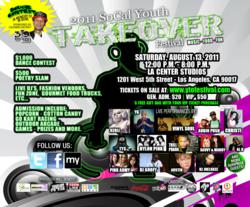 "They may forget what you said, but they will never forget how you made them feel." ~Carl W. Buechner
Los Angeles, CA (PRWEB) July 25, 2011
Loose Ends Events & Marketing today announced the line-up of performers for the 2011 SoCal Youth Takeover Festival on Saturday August 13, 2011 from Noon-8PM at the Los Angeles Center Studios located at 1201 West 5th Street in downtown LA. Sponsored by Coca-Cola, MySpace and Yelp, the 2011 SoCal Youth TakeOver Festival will feature awesome performances that fans of all ages will enjoy, including LA's hottest Def Jam recording artist YG and Island Records label-mate Kerli, with her intoxicating brand of dance, pop and rock music.
Atlantic Records hot new urban artist TyDolla$ign will be showcasing his talents along with the Inland Empire's favorite hometown group and Interscope recording artists Audio Push. They will be joined by a lineup that includes incredible local unsigned talent such as edgy pop/rock performers Savvy and Mandy along with teen trio Pink Army and rockin' electro/pop girl group Nylon Pink. Austin Anderson, the drummer from Nickelodeon's new show "Victorious," will have fans screaming for his solo act, while Vinyl Soul provides some smooth grooves for the ladies and up and coming hip hop artists Al D and Kendre' rock the mic. And of course DJ Goofy and DJ JoelSkee will have the turntables cranked up throughout the festival.
Presale tickets are now available online at (search "ytofestival") for only $20 which provides an entire summer Saturday full of awesome music with chart topping artists, local favorites and surprise celebrity appearances. Along with the free giveaways, raffle prizes, educational and informational booths, a $1000 Dance Contest with celebrity guest judges, a banging Poetry Slam with a $500 grand prize, guest speakers and variety of scrumptious gourmet food trucks to choose from, the 2011 SoCal Youth TakeOver Festival is the place to be!
As previously announced, the SoCal Youth TakeOver Festival was developed as a charity fundraiser to empower local youth with a community event that gives them an outlet to enjoy a variety of activities in a safe and fun venue while raising funds for local non-profit organizations including Art Share Los Angeles, Together We Rise, Teen Line and Inner City Kitchen. Adding more to the mix, Los Angeles Mayor Antonio Villaraigosa and various City Council members are scheduled to make an appearance in support of this great community youth fundraising event.
Also featured will be a special "Dougie" dance contest and tribute to M-Bone, a member of the L.A. based music group Cali Swag District, who was the tragic victim of senseless gun violence just a few months ago. Speaking out against violence and honoring their friend, Cali Swag District and 319 Music will award a prize to the best dancer doing the "Dougie" dance they made famous.
The goal of the 2011 SoCal Youth TakeOver Festival is to create a fun community event that targets our youth by drawing them in with incredible entertainment, and then engages them with opportunities to become better informed young people by visiting the Information Station booths with resources on job training, college scholarships, gang intervention and several different community youth programs. The LAPD Cadets Program, Los Angeles Urban League, Planned Parenthood, AIDS Healthcare Foundation and Community Health Charities have all confirmed participation among many others. Highlighting these organizations and introducing the services they offer to our community will only enhance the development and education of our youth by giving them new tools and resources to become stable, productive, independent young adults.
###