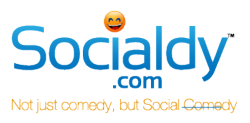 Think of Socialdy.com
as the Huffington Post for comedy within the social media realm.
New York, NY (PRWEB) July 27, 2011
Socialdy.com is a new website founded by a twenty-six year old entrepreneur named Mo-Rey. Mo-Rey developed the website as a way for a younger generation to share funny clips, postings, and related material solely through the utilization of social media. Currently old multi-media avenues, such as broadcast channels like Comedy Central, are inundated with reruns of cancelled sitcoms and stale political talk shows.
Socialdy.com plans to revive the dying art of comedy for the current generation. Through polling, Mo-Rey discovered ninety nine percent of twenty-somethings don't watch the news, but they will spend countless hours online watching funny viral material shared, via countless social networking, through their friends. The polls also revealed this younger, more edgy generation doesn't watch Saturday Night Live or Two and a Half Men vs. an older generation of comedy lovers.
Socialdy.com has been created to bury comedy's sitcom, standup and late night past while introducing its future. The website's sole purpose is to deliver content through a medium used by a younger generation on a daily, if not hourly, basis. What sets the website apart is the interaction between the website and its youthful, targeted demographic. Visitors are encouraged to submit content to the website. Socialdy's team of Funny Posters will post the funniest material daily! Visitors to the website are also encouraged to express themselves using today's social media vocabulary, such as "LOL", "WTF", "OMG" and SMH in which their expression can be shared back to their Twiter and Facebook feed.
Socialdy.com's name is a combination of the words "social" and "comedyl", reflecting the two purposes the funny website serves. "I think of Socialdy.com as the Huffington Post for comedy within the social media realm. What makes the website different is the platform. The website is not just leaning left or right because we will lampoon the president's Air Force One sized ears or Sarah Palin as a blonde wearing a brunette's wig," said Co-founder Mo-Rey. "We created it to be an impartial, funny leaning website! We are laughing at everyone and anyone that says, or does, something funny on Social Media!"
Socialdy.com is slated to become a permanent brand for the social generation's comedy needs. Jon Stewart and Stephen Colbert may be television legends within their Political genre, but they aren't current to today's generation. Socialdy.com is intended to make today's youth laugh by delivering short, clever and edgy comedy exclusively in a web 2.0 manner.
Founded in 2010, Socialdy.com is a social comedy website which aggregates the funniest videos, pictures, Tweets and posts from around the Social Web. Visitors to the website can submit funny "stuff" from around the Social web. The website's team of Funny Posters will post the funniest submissions to the site daily! More on about SocialDy.com can be watched here: youtube.com/v/UIHG187a53I
# # #