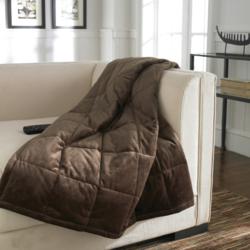 sure to keep sleepy students resting warm and cozy in any climate
New York, NY (PRWEB) July 26, 2011
Heading back from the beach, back to school, back to campus and back to the cooler weather doesn't have to be a bummer. Kids of all ages will certainly appreciate that mom put these gifts-of-love in their duffle bag. Whether living at home or in a dorm, these two great products are sure to make any bed more fun and cozy. Stay-tuned for upcoming sweepstakes and giveaways from Ellery Homestyles for multiple chances to win these cool gifts just in time for the bell!
Give them the warmth of a ComfortTech Blanket
Luxurious ComfortTech™ Blankets, enhanced with 3M™ Thinsulate™ Insulation are sure to keep sleepy students resting warm and cozy in any climate. ComfortTech™ Blankets feature a selection of plush microfiber and micromink fabrics reversing to faux fur in a range of solid colors. The blankets offer the ultimate blend of style and functionality, ideal for year-round use. The 3M™ Thinsulate™ insulation provides twice the warmth of other high-loft insulating materials and nearly twice the warmth of down. The ultimate down-alternative blanket, ComfortTech™ blankets make a great gift for friends and family. Visit Facebook.com/ComfortTech for our Back-To-School event coming soon!
Give them the pillow that rocks (literally)!
The Sound Asleep Comfort Pillow is the perfect way to keep sluggish scholars excited about getting the zzzz's they need. It's not an average pillow! Instead it's chock-full of awesome features-- like a built-in speaker that plays sound from portable music devices including iPods, iPads, Smart Phones, and even bedside radios. The speaker is buried deep inside the pillow, so it's comfy enough to earn a steady spot on the bed! The best part of all – no ear buds necessary!! The Sound Asleep Pillow is also the perfect gift for students of all ages. It will drown out unwanted noise, and provide the relaxing sleep environment essential for nights before a big exam. Visit Facebook.com/SoundAsleepComfortPillow for more information.
Ellery Homestyles is a leading supplier of branded and private label home-fashion products to major retailers – offering curtains, bedding, throws and specialty products. Our proprietary brands deliver innovation in fashion, function and design and include Eclipse™ - the voice of authority for energy-saving, noise-reducing, blackout curtains; Curtainfresh™ - innovative curtains with odor-neutralizing technology developed in partnership with Church & Dwight, maker of Arm & Hammer®; SoundAsleep™ room-darkening curtains, The Official Curtain of the National Sleep Foundation; ComfortTech™ - the only blankets constructed with premium 3M™ Thinsulate™ Insulation, providing luxurious style, lightweight comfort and superior warmth; VUE™ – the home fashion brand that presents Ellery's "point of view" on fashion trends and design, and Waverly® - the oldest continuously advertised home fashions brand in America recognized by consumers for its distinctive traditional looks.
###