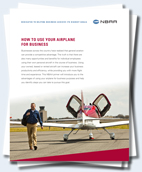 Using A Personal Airplane Can Give Your Company a Competitive Advantage.
(PRWEB) July 27, 2011
The National Business Aviation Association (NBAA) today announced the release of How to Use Your Airplane for Business, a new white paper that details the benefits of using personal aircraft for business, and the steps an employee needs to take to begin using an airplane to pursue the company's objectives.
Specifically, the report identifies steps for gaining approval with corporate decision-makers for using a personal airplane for company business, and details considerations for developing a company policy covering such use.
Employers continually look for ways to increase productivity, become more nimble, and gain a competitive advantage, especially in today's highly challenging economy.
The use of a general aviation aircraft for business can give companies that competitive edge, while optimizing the efficiency of an employee's time and helping companies meet transportation challenges that can't be met with the airlines. For example, business aircraft allow companies to increase response times, visit multiple locations in one day and transport products that don't meet airline luggage restrictions.
Equally important, the costs involved for an employee to use his or her own airplane on business can be competitive with those for travel via the airlines or an automobile, especially since time savings and enhanced productivity are part of the equation.
"NBAA has always promoted the use of aircraft in the conduct of business, but companies sometimes overlook the idea of putting an employee's aircraft to work to make travel more efficient and productive," said Mike Nichols, NBAA vice president of operations, education & economics. " How to Use Your Airplane for Business provides companies and employee-pilots with the guidance they need to formulate a policy that will encourage use of employee-owned and operated aircraft to help a company succeed."
The white paper includes recommendations on determining whether or not employees should use their aircraft for business travel; how to make the best use of the asset; what should be considered in a company's policy on employee aircraft use; and how to get an employer interested in the concept. To view and download an electronic copy of this new resource, visit http://www.ascendwithnbaa.org/business.
Founded in 1947 and based in Washington, DC, the National Business Aviation Association (NBAA) is the leading organization for companies that rely on general aviation aircraft as well as corporate aircraft to help make their businesses more efficient, productive and successful.
The Association represents more than 8,000 companies and provides more than 100 products and services to the business aviation community, including the NBAA Annual Meeting & Convention, the world's largest civil aviation trade show. Learn more about NBAA at http://www.nbaa.org.
Members of the media may receive NBAA Press Releases immediately via e-mail. To subscribe to the NBAA Press Release e-mail list, submit the online form at http://www.nbaa.org/news/pr/subscribe.
###