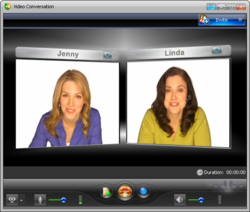 Lafayette, La (PRWEB) July 25, 2011
With today's e-commerce customers expecting more and better personalized service, it has become increasingly important for companies to innovate to build lasting customer relationships.
Golfballs.com, a leader in personalized golf balls and equipment, has done just that. Using a new technology to offer live video customer service, it now provides a unique way to help customers online. Now, in addition to standard live web chat, Golfballs.com customers may choose to chat with a service representative live and via two-way video.
"Our company is built for a high level of customer service, so this face-to-face evolution is perfect for us," said Golfballs.com president and CEO, Tom Cox. "For example, if a customer wants to see an actual 360-degree view of a golf club, held in someone's actual hand, or a side-by-side real-life comparison with another club, our video chat provides that functionality."
ooVoo is an online video chat and conferencing service that allows people to communicate via a live video stream over the Internet. Golfballs.com now uses this technology and incorporates it into its current customer service chat feature.
"IP-based video conferencing technology has been out for over a decade," Cox said, "but it took a company like ooVoo to build an in-browser application to make it practical for use in the customer service environment. Our part of the software development was to write a customer service alert and queuing application that runs using their platform."
Cox said that browser-based video chat is actually easier than installing a client-based system. The customer simply clicks the "Video Chat" option for live help at any time during the shopping process. Within seconds they are connected with a Golfballs.com customer service representative, face-to-face. There is no need to download any software other than Java to use the feature, and the only necessary hardware is a microphone and speakers. If the customer also has a webcam, they will be viewable by the customer service representative.
"We have been testing our new video customer support for about two months now," Cox said, "and so far our customers have been very receptive to it. Much like when we started using text chat ten years ago, most of the customer interaction has been to check the status of an order. But we have actually taken several orders face-to-face. The more ubiquitous video becomes, the more customers are going to demand face-to-face interaction."
Online video chat has been on the rise for years and is steadily becoming more mainstream. Microsoft recently purchased Skype, and there have been announcements of a Skype video interface feature becoming available on Facebook. These services are also being integrated onto smartphones, allowing people to bring video conferencing with them at all times. Apple's latest generation of iPhone has video chat built into its operating system. As the technology becomes available, companies are able to utilize these innovations to bring a better online shopping experience to e-commerce.
"There's no substitute for having the technology to give your customers exactly what they want," Cox said. "Technology aside, this new service simply allows Golfballs.com to create a more complete and differentiated approach to helping customers online."
###