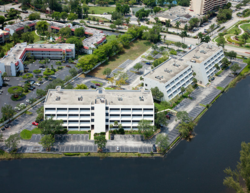 Our prospective buyers came from throughout the U.S., Canada and the United Kingdom in direct response to our marketing plan.
Lauderhill, FL (PRWEB) July 26, 2011
Fisher Auction Company announced today the sale of the "Corporate Park at Inverrary" for $4.6 Million in a deal that closed two days prior to the auction date. The two corporate office buildings are located at 3800 Inverrary Boulevard, Lauderhill, Florida 33319. An auction was originally scheduled for Tuesday, July 19th, 2011.
Lamar Fisher, President and CEO of Fisher Auction Company said "Our marketing efforts resulted in over 120 inquires from investors and brokers, over 60 signed confidentiality agreements and we had secured over 14 broker registrations the week prior to the auction," Fisher continues, "Our prospective buyers came from throughout the U.S., Canada and the United Kingdom in direct response to our marketing plan."
Horizon Lending, LLC, was pleased with the closing of the sale of their property 2 days prior to the scheduled auction date."We were quite happy that the Fisher Auction Company provided a qualified cash buyer to purchase and close on our office complex with an acceptable pre-emptive bid just 2 days before the auction date," said Horizons' spokesperson, "We hope in the future we will acquire more properties that will lend themselves to the auction process and to use the very effective, professional services of the Fisher Auction Company."
Neil Saffer, head of Fisher Auction's Business Development Group said, "We have a highly experienced team that put together the marketing, due diligence package, conducted tours and helped to keep our potential bidders constantly informed," Saffer continues, "I think this is reflected in the strong response we achieved from experienced office investment groups and the commercial brokerage community."
When asked about future plans for the office park, the buyer, Robert Siu of CDM Property Investments, LLC commented, "This was a good acquisition, the price was right for us and we plan to eventually renovate the space to make it a first class facility for use by the local business community."
###