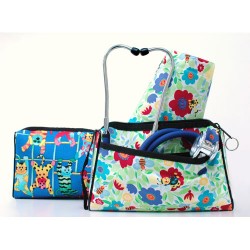 "I'm overjoyed by QuickMedical's donation; blood pressure cuffs are one of the most important medical devices needed at the camp.... Thank you very much."
Issaquah, WA (PRWEB) July 27, 2011
QuickMedical recently donated a supply of ADC Pro Combo II Colorful Aneroid Blood Pressure Kits to medical students of the Community Health Care Provider education program at the Dzaleka Refugee Camp in Malawi, Africa.
Malawi is a small landlocked country in southeast Africa. It is among the world's least developed countries with a short life expectancy rate, high infant mortality and a high prevalence of HIV; but despite this, Malawi has remained free from much of the genocidal conflicts of the last 20 years which have afflicted the neighboring countries.
Malawi has become home for hundreds of refugees from all over the southeastern African region who journey to Malawi for safety. The Dzaleka Refugee Camp located 40 miles from the nearest hospital in the capital city of Lilongwe, houses around 17,000 African refugees from the conflict-stricken regions of the Congo, Burundi and Rwanda. Unfortunately, there is only one health clinic in this growing refugee community.
The Jesuit Refugee Service is responsible for education and care in the camp, and realizing the need for better more efficient means of education and updated medical equipment, proposed a new medical education program for members of the refugee community with a secondary education and contacted QuickMedical for assistance.
Dr. Mary McFarland, with Jesuit Commons: Higher Education at the Margins, which would administer the new program in Malawi, contacted Dr. Janet Quillian, associate professor at theJesuit-run Seattle University to serve as faculty for the Community Health Care Providers pilot program at the Dzaleka Refugee Camp. Dr. Quillian is a nurse practitioner with expertise in maternal care, pediatrics, home health care, and elder care, all of which are issues of primary importance at the camp.
Dr. Quillian teaches the students primary health care, pediatric and maternal care, HIV protection, mental health, and other basic health promotion subjects. Maternal and child care is particularly important.
The ability to take and track maternal blood pressure is invaluable, and now with the new ADC Blood Pressure kits donated by QuickMedical, the students will be able to acquire hands on experience using the latest in blood pressure devices. In the future, the health clinic will loan out the blood pressure monitors to the students so they may use them throughout the camp giving residents check-ups and blood pressure readings.
A QuickMedical representative met personally with Dr. Quillian to deliver the kits. Dr. Quillian said, "I'm overjoyed by QuickMedical's donation; blood pressure cuffs are one of the most important medical devices needed at the camp.... Thank you very much."
About QuickMedical® and Qtube®:
With great pricing, QuickMedical® has the professional medical equipment needed by health care providers. Look for diagnostic equipment, exam tables, weighing and measuring devices, and medical basics such as stethoscopes, thermometers, and sphygmomanometers. QuickMedical® also offers a wide selection of professional medical supplies; everything from patient care, to blood testing, to exam room products. Find quality and affordable disposables and medical supplies for the clinic, hospital, or home care environment. Qtube™ Videos are supplied by our manufacturers or produced in house by our Production Team. Most videos are shot in our state of the art showrooms. Current displays include medical, surgical, and a pediatric exam rooms. Look for QuickMedical's® new television commercial, currently airing in the Seattle market on local ABC affiliate KOMO 4.
###