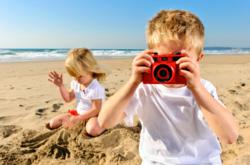 Dallas, TX (PRWEB) July 26, 2011
Stay-cations are over. A new survey from Capital One shows 62 percent of Americans polled are planning -- or have already enjoyed -- a vacation this summer. Vacations mean getaways to tropical lands, relaxing on white sand beaches, excitement at theme parks... and digital photos to capture once-in-a-lifetime family memories.
When the tan lines have faded, all families have left are the photos. Make sure to protect digital images during vacation and on the plane ride home.
Protect Digital Images from Data Loss and Corruption
24 Hour Data, industry leaders in professional data recovery, have seen it all.

Dropped digital cameras
Deleted pictures
Damaged internal and external hard drives
Crushed or water-damaged memory cards and USB flash drives
24 Hour Data offers these tips to protect precious photo memories during trip and during airline travel:
1. Protect against deleted data. Don't let toddlers or young children handle cameras.
2. Use protective plastic cases to store SSD flash memory cards to protect from shock damage, sand, dirt and water damage.
3. Check pockets before sending clothing to the hotel laundry service to avoid accidentally washing an SSD flash memory card or USB flash drive that's storing vacation photos.
4. Back up photos in two places -- for instance, a laptop hard drive and USB flash drive or external hard drive. Consider "in-the-cloud" storage by uploading photos to an online storage solution like Flicka or Dropbox.
5. Protect laptops and external hard drives from shock damage during air travel. Watch laptops and drives carefully as they go through airport security. Stow laptop bags under the seat, rather than in overhead bins, where they can suffer shock damage if they shift and fall out when the overhead bins are opened.
Don't Attempt DIY Data Recovery
If a laptop or external hard drive begins making clicking, whirring or grinding noises following travel, turn off the computer immediately. This could indicate catastrophic hard drive failure. Attempts to retrieve the data could result in permanent data loss -- and the loss of irreplaceable vacation memories.
24 Hour Data offers fast, affordable data recovery services to retrieve lost vacation photos for families and individuals. Whether a hard drive, flash drive or memory card has suffered shock damage, water damage or has simply worn out from old age, the data recovery specialists at 24 Hour Data can help.
"Many families this year are saving their hard-earned money to afford a real vacation. When photos from a trip are ruined, it puts a permanent black cloud over a happy time," says 24 Hour Data president Sean Wade. "But it doesn't have to be that way. Our data recovery services are affordable enough for families to retrieve lost or corrupted digital photos from any form of media storage. In most cases, we have digital photos recovered and stored on a new external hard drive in less than 48 hours."
Experts in Data Recovery for All Devices
24 Hour Data specializes in data recovery for businesses and individuals and offers:
Don't mourn the loss of precious vacation photos. Call 24 Hour Data for fast, professional, and reliable data recovery services. Our iron-clad "data guarantee" promises recovered data, or there's no charge for the service.
About 24 Hour Data - 24 Hour Data, based in Dallas, Texas, is an industry leading data recovery firm specializing in logical and physical recovery of hard disk drives, RAID servers, photos, Macs, flash drives, solid state drives, virtual arrays and more. We understand the "human" side of the data recovery business, and offer round-the-clock service and a fast and honest estimate, along with data recovery within 48 hours, in most cases. Go to http://www.24hourdata.com to find out more.
For more information:
Call: 866-598-3282
###