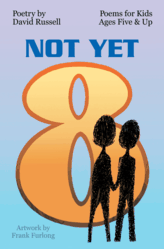 The goal of each poem, each book, is to use words and pictures children of that age can understand and will have fun hearing or reading.
Pacific Pallisades, CA (PRWEB) July 26, 2011
The poetry in "Not Yet 8" takes young readers a step up from the simpler poems for ages 2 to 5 in the pair's previous poetry book, "Before We Were 5." The goal of each poem, each book, is to use words and pictures children of that age can understand and will have fun hearing or reading.
Speaking the rhyming words in "Diff'rent Name Game," "What's When?" "Squirmin" Herman" or the long poem "The Town Without Numbers" can be a real squeal, which, hopefully, will also remind parents of fun they had when they were young, making up their own singsong rhymes. Was that the beginning of rap?
The author and illustrator have tried to have many of their poems answer through rhyme some of the never-ending questions growing children ask.
Author David Russell enjoys creating books since it lets him work with his old friend, Frank Furlong, after a long absence. They first joined forces 35 years ago when as young bucks they successfully produced animated TV commercials and company films for U.S., Canadian and Mexican clients. An award from the Office Of Education/HEW helped the resume, contracting the scripting and producing of interactive learning films for students from senior high school to junior college. Each episode had at least one Furlong cartoon for comedy relief.
After that Furlong and Russell drifted apart. Furlong continued drawing animated spots for a broad base of clients including "Sesame Street." Then he worked on background designs for the TV series "Bobby's World" and "Angry Beavers."
Russell worked for a TV special effects film house, producing commercials for clients including The Pillsbury Doughboy, Alka Seltzer, Chuck Wagon and Chevrolet, plus effects for the show "Fantasy Island." In later years, his independent entity produced Ford and Hertz TV spots.
Now that their career days are behind them, Russell and Furlong are back where they started, having fun working together, this time writing and drawing story and poetry books they hope children will enjoy. No editor has had a hand in shaping their work, but how wrong can they be with Furlong's playful drawings enriching each of Russell's silly, whimsical rhymes.
"Not Yet 8," like their earlier books "Pop-Pop's Magic Chair," "The Loch Lomond Monster" and "Before We Were 5" are on Apple Stores "IBooks." They're also in the children's sections of E-Catalogs at Amazon, Barnes & Noble and Ingram, or at our website, http://www.booksbyallmeans.com.
BEFORE WE WERE 5: POEMS FOR KIDS AGES TWO TO FIVE
David Russell
Dog Ear Publishing
ISBN: 978-145750-269-9 24 pages $12.95 US
Available at Ingram, Amazon.com, Barnes & Noble
and fine bookstores everywhere
About Dog Ear Publishing, LLC
Dog Ear Publishing offers completely customized self-publishing services for independent authors. We provide cost-effective, fast, and highly profitable services to publish and distribute independently published books. Our book publishing and distribution services reach worldwide. Dog Ear authors retain all rights and complete creative control throughout the entire self-publishing process. Self-publishing services are available globally at http://www.dogearpublishing.net and from our offices in Indianapolis.
Dog Ear Publishing – self-publishing that actually makes sense.
###