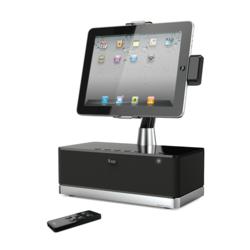 Port Washington, NY (PRWEB) July 25, 2011
iLuv Creative Technology, the brand leader with the most comprehensive line of accessories for the mobile lifestyle, delivers aesthetics and cinematic sound quality in its flagship offering, the iMM514, ArtStation Pro. The ArtStation Pro is the ultimate iPad docking station, offering superior audio performance, stylish design, unparalleled functionality and convenience.
The iPad has clearly revolutionized the way people enjoy digital content while on the go. The iLuv ArtStation Pro was designed to revolutionize the way people use the iPad while at home. The iMM514 transforms the iPad into a home entertainment center, enabling users to easily and comfortably enjoy music, movies and TV shows. Ideal for parties, family gatherings or simply for personal enjoyment, the ArtStation Pro will easily become a user's main music system.
The ArtStation Pro comes in black or white and is not much wider than the iPad itself. Its sleek design can fit in with any décor—from a minimalist modern loft to a jewel-toned media room. Just place your iPad in the ArtStation Pro and luxuriate in the rich, bold jAura sound that every discerning consumer craves.
Music lovers will enjoy the wireless remote control, which enables consumers to skip through tracks and adjust the volume while listening to their favorite tunes. For added convenience, the compact remote stores magnetically against the back of the system, ensuring that when not in use, it does not get lost in-between the couch cushions.
Another exciting benefit of the ArtStation Pro is its fully articulating rotational arm, allowing users to choose a landscape view for watching movies from YouTube or other streaming movie service and to quickly switch to a portrait orientation for reading news or checking on a favorite recipe.
Users can also enhance the iMM514's performance by downloading the free iLuv App 3.06 from the App store and transform the ArtStation Pro into an Internet Radio, iPod music player, a highly interactive time display and alarm clock, as well as a source for localized and searchable weather.
Pricing and Availability
General availability of the ArtStation Pro (iMM514) is slated for early August at select iLuv retailers for $169.99. The ArtStation Pro is compatible with the iPad, iPhone and iPod.
Follow us on Twitter @iLuv_World, or friend us on Facebook at iLuv Creative Technology.
About iLuv
iLuv® Creative Technology, the premier provider of the most comprehensive line of accessories for the Apple, Samsung Galaxy and smartphone markets, rapidly delivers products for today's discriminating consumers. Since inception, iLuv has amassed a total of 16 prestigious CES Innovations awards, recognized for design and engineering in the portable, multimedia accessories, headphones and the in-vehicle accessory categories. Headquartered in New York, iLuv is a division of jWIN Electronics Corp., a leading consumer electronics company since 1997. All iLuv products are conceived, designed and developed in New York and continue to lead in quality, value, design and innovation. Learn more about our distinctive range of products and why iLuv means Innovative Lifestyle Unquestionable Value® at http://www.i-Luv.com.
iLuv® and Innovative Lifestyle Unquestionable Value® trademarks are the exclusive properties of jWIN Electronics Corp. and are registered with the U.S. Patent and Trademark Office, and may be registered or pending registration in other countries. All other iLuv® trademarks, service marks, and logos may be registered or pending registration in the U.S. or in other countries. All other trademarks or registered trademarks are the property of their respective owners. © 2011 iLuv Creative Technology.
# # #