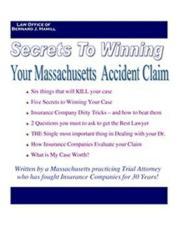 Massachusetts consumers have been successful in receiving payments for their injuries using the same principles outlined in this free accident guide
Boston, MA (PRWEB) July 27, 2011
Attorney Bernard J. Hamill of the Hamill Law Firm has published a free guide for Massachusetts victims of car accident injuries. The accident guide, in PDF format and obtainable at the Hamill Law firm website - Personal Injury Guide was written exclusively for Massachusetts car accident victims, The guide offers tips on how to maximize the value of your personal injury claim by making the right choices early on.
Topics include how to get medical bills paid; what to say to the treating doctor to maximize the value of an injury claim; when it is advisable to talk to the insurance company; when not to speak with an insurance adjuster; How to prepare for an insurance company physical or "IME".
Insurance companies are fighting claims more vigorously than ever before. They are using investigators to undermine even the most meritorious claims. Proper action at the beginning of the case sets the stage for later successful settlements. Advice is given in the guide for each stage of the claim including settlement and trial.
Mistakes made early on in the case can be fatal, but they can be avoided. A little knowledge about crucial elements to an injury claim will avoid a poor case result. Learn the most frequent mistakes to avoid.
Learn the secrets to winning an accident case. For example, this Guide will tell how to avoid the "medical records trap".
This free accident guide was written to help Massachusetts consumers obtain optimum recovery for an injury caused by a negligent automobile driver. It is Massachusetts specific. It was written by Massachusetts attorneys with years of experience. It is based on tried and true techniques learned by lawyers from fighting insurance companies for years.
The Hamill Law firm has been representing victims of car accidents in Massachusetts for over three decades. They have a proven track record of resolving the most difficult cases. Thousands of cases have been successfully settled or tried. There is never a fee charged until money is collected. Hamill Law will advance costs required to properly and effectively present the case.
Choosing the right law firm does make a difference. Over 98% of Hamill Law clients have been successful in receiving payments for their injuries using the same principles outlined in this free accident guide.
Attorney Bernard J. Hamill encourages all Massachusetts car accident victims to take advantage of this free offer available by visiting the firm website or by clicking here: Hamill Law free Accident Guide.
provided by Hamill Law Offices
Visit us at http://www.Hamill-Law.com or contact us at (617) 479-4300
###