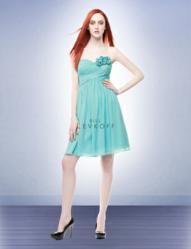 White Plains, New York (PRWEB) July 27, 2011
After much anticipation, Bill Levkoff has launched the Fall 2011 bridesmaids collection. The Fall 2011 styles can be seen on Bill Levkoff's website that was completely redesigned earlier this year.
There are seven different fabrics in this season, but Bill Levkoff has emphasized chiffon in this collection. Recent trends indicate that chiffon is becoming a highly popular choice for bridal parties. Brides are finding that the fabric is a highly desirable choice for their bridesmaids' dresses because of its femininity and luxuriousness. Customers are crediting the comfortable, free-flowing elegance and light-weight nature of the fabric making it more attractive.
Femininity clearly influences the collection. Floral accents are incorporated in many of this season's styles. Additionally, there are more one-shoulder styles in this collection as compared to past seasons. The pleating, ruching, and asymmetrical lines found in many Fall 2011 styles highlight and accentuate the curves and natural beauty of women with many body types.
Recent trends indicate that brides and bridesmaids are gravitating towards shorter dresses rather than the longer traditional floor length gowns. Bill Levkoff still offers a wide variety of floor length gowns, but in this collection, the shorter hemline prevails.
All of the Fall 2011 dresses can be viewed on the company website and seen at authorized Bill Levkoff retailers. Simplicity is the term that would best describe the new Bill Levkoff website. Customers can choose to view styles by fabrics, silhouettes and necklines. If a customer wants to search for a floor length chiffon dress, she can simply click on "chiffon" and "floor length" and all the styles that meet that criteria instantly appear. This feature helps customers find the perfect bridesmaid dress with ease. The website includes a store locator, with Google© maps to help customers find local retailers.
Founded in 1946, Bill Levkoff has continued to make brides' dreams come true, by offering wearable and stylish dresses that make their attendants feel beautiful. Many of these dresses can be worn time and time again. The company continues to grow each year and solidify its position as the industry leader of bridesmaids' dresses.
###