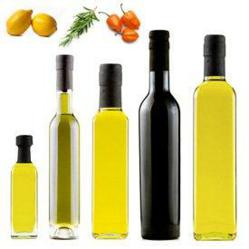 From selection to shipping is a one week process and our customers see this as a real competitive advantage.
Santa Ynez, CA (PRWEB) July 26, 2011
The Olive Oil Source, the top ranked olive-oil related website in the world, today announced the launch of their latest online venture, a Private Label Program offered exclusively through their Wholesale Store. The program provides restaurants, food retailers and marketers a full line of high-quality extra virgin olive oils and vinegars, including certified organic, Kosher, and specialty flavored options, that can be custom-branded. The first of its kind in the industry, the program provides a simple three-step online ordering process of product and package creation, offered by the same award-winning team that has serviced the olive oil industry for years.
"Our long experience in working with wholesale customers, specialty food retailers and the gift trade to create their own brands gave us the hands-on knowledge that is the foundation of our program. We understand that customers need immediate availability of a wide array of options – in both product and packaging. Now, we offer a simple "select and click" approach to creating high-quality, self-branded product lines that is completely customer-controlled," stated Antoinette Addison, founder.
At the foundation of the program is the ability to create custom "shiners", or unbranded bottles of olive oil or vinegar through a simplified online process. Similar to the wine industry's approach to bottling wine for later rebranding, the new Private Label Program includes over 70 extra virgin olive oils and vinegars to choose from. A wide variety of bottle styles and sizes provide complete flexibility to the customer. Online pricing and ordering make this an industry first, bypassing the typical "call us for more information" sites that hint at the service without providing detailed information upfront.
Another significant advantage of the program is its low minimum case requirements, allowing customers to conduct their own in-store tests with flavor and sizing options. The program presents a perfect opportunity for olive oil tasting bar entrepreneurs and specialty food store owners to fine-tune their own product offerings to fill in the product line gaps or present a cost-effective self-branded option to their customers. The gift trade can use the program to augment basket creations or branded promotional campaigns.
"We understand that lower case volume and immediate product availability are two key issues facing new brands and private label offerings. With our new "shiner" program, customers can make a minimum commitment and still be assured that their orders will receive immediate turn-around fulfillment. From selection to shipping is a one week process and our customers see this as a real competitive advantage," added Addison.
With a growing market demand for cost-competitive, private and custom label options, The Olive Oil Source has added this service to their already popular Wholesale store. If you are a grower, producer or marketer of olive oil products, visit the Wholesale store or The Olive Oil Source's founding site for more information and products that can help your business.
About The Olive Oil Source:
The Olive Oil Source is the most comprehensive olive oil resource for information, trends, and products on everything related to olive oil. Producers seeking information on the latest commercial equipment, retailers looking to source olive oil related products, or consumers interested in the latest trends in olive oil will find "Everything but the Olive" at The Olive Oil Source.
The Olive Oil Source is owned and operated by Shawn and Antoinette Addison who have graduate education degrees in agricultural sciences and economics from Ecole Nationale d'Agronomie in France and from Stanford University and manage their own organic olive orchard and mill in the Santa Ynez Valley. They are among a select group of industry experts able to provide customers with information and products based on both current research and field experience. For more information about the company, please visit About Us at The Olive Oil Source.
###