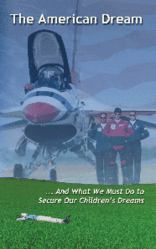 See how a small town boy from a working middle class family had the audacity to dream big and rose from the enlisted ranks to fly as a Thunderbird pilot.
Carmel, IN. (PRWEB) July 26, 2011
In 1980 when Matt "Mods" Modleski joined the Air Force, less than 100 Americans had served as Thunderbird demonstration pilots. In "The American Dream," readers will learn about Matt's journey to join them. See how a small town boy from a working middle class family had the audacity to dream big and rose from the enlisted ranks to fly as a Thunderbird pilot. They will follow Matt though the mischievous adventures of his youth, and see firsthand an unwavering persistence to overcome obstacles. But Matt's journey doesn't stop there; in the second half of this book, readers learn about his dream for the America he wants us to leave to our children and grandchildren. It's a big dream, built on the core American values of family, faith, competitive spirit, perseverance and accountability.
Modleski shares the thrill of performing air shows with his teammates and, more importantly, gives insight into the camaraderie that exists among all members of the armed forces. In addition to discussing his fascinating time in service to America, "Mods" also writes of his desire to "engage America in a dialogue that we must have in terms of the trajectory of our country, why we're on that trajectory, and what we as Americans can do about it." He speaks of the country's addiction to credit, and the astounding size of combined household and federal debt. Matt calls on all of us as citizens to understand the risk to our nation, to take responsibility for our actions and to live within our means.
The American Dream And What We Must Do to Secure Our Children's Dreams, published by Dog Ear Publishing, is more than one man's story of setting a goal and achieving it; it is a call to all Americans to reconsider our lifestyles and set our lives, and the lives of our children and grandchildren, back on the right track. Matt Modleski served the Air Force proudly for many years, earning the Distinguished Flying Cross and logging more than 120 hours of combat time during his service. After retiring, Modleski turned his energy to the healthcare marketplace and is now an equity business partner in a strategy and leadership consulting firm, Stovall Grainger Modleski. Matt lives in Carmel, Indiana, with his wife Dianne and their two sons, Keaton and Jacob.
For more information, visit http://www.mattmodleski.com
THE AMERICAN DREAM AND WHAT WE MUST DO TO SECURE OUR CHILDREN'S DREAMS
Matt Modleski
Dog Ear Publishing
ISBN: 978-145750-366-5 105 pages $12.95 US
Available at Ingram, Amazon.com, Barnes & Noble
and fine bookstores everywhere
About Dog Ear Publishing, LLC Dog Ear Publishing offers completely customized self-publishing services for independent authors. We provide cost-effective, fast, and highly profitable services to publish and distribute independently published books. Our book publishing and distribution services reach worldwide. Dog Ear authors retain all rights and complete creative control throughout the entire self-publishing process. Self-publishing services are available globally at http://www.dogearpublishing.net and from our offices in Indianapolis, Indiana.
Dog Ear Publishing – self-publishing that actually makes sense.
###