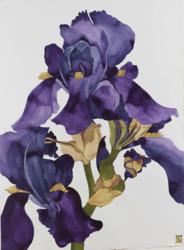 Aspen, CO (PRWEB) July 28, 2011
Galerie Maximillian is pleased to announce Sarah Graham: Works on Paper 2011. This will be Graham's premier U.S. Exhibition with the artist in attendance for an opening reception on Friday, July 29th from 6-8 pm.
As one of Europe's leading fine artists, Sarah Graham's twisting, flowing forms are strong, sensual and somehow irresistible. Her uniquely beautiful paintings and drawings are inspired by the plant world and natural forms. Sarah has traveled the world and made close observations and studies of all kinds of exotic flowers, plants and insects. Back in the studio, she executes both her watercolors and pencil drawings on large, joined sheets of textual hand-made paper from Nepal. Those lucky enough to experience her work will find it a delight to the eye, mind and heart. Galerie Maximillian is delighted to welcome Graham to Aspen, Colorado and to introduce her work to the U.S. market.
Biography
Sarah Graham was born in Edinburgh, Scotland in 1973. Between 1992 and 1996 she completed two MA's at Edinburgh University and Edinburgh College of Art in both Art History and Fine Art. From 1994-2005 she travelled across the world drawing and painting in Australia, Turkey, Cape Town, China, Pakistan, Kyrgystan, Tajikistan, California and Long Island, USA. In 2001 she rode across Central Asia with a travel writer and made a film that the Discovery Channel bought called "Beyond the Mountains of Heaven" and co-wrote the book "Silk Road, Troubled Dreams."
Galerie Maximillian is located at 602 East Cooper Avenue in downtown Aspen, Colorado. Our friendly knowledgeable team of Aspen art consultants have over 40 years of experience in the fine art market. The gallery is open Monday-Saturday from 10:00am until 8:00pm, and Sundays from 11:00am until 7:00pm.
###