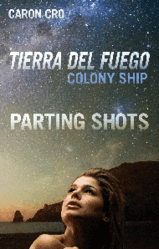 Set in the not-too-distant future, 'Tierra del Fuego: Colony Ship' explores themes about procreation, family diversity, and the rights of animals with admirable originality.
Austin, TX (PRWEB) July 26, 2011
Trevathan Ivins is an accomplished environmental systems officer who hopes to travel with Earth's first colony ship, the Tierra del Fuego, on its 100-year voyage to inhabit Demodocus. To be one of the 2,000 people who will be living and working on the colony ship would be the fulfillment of her lifelong dream. Trev's mother and her brother were killed in a terrorist attack on an earlier space craft, and she is estranged from her father, a renowned animal research scientist. Single and career-driven, she is fully prepared to leave her terrestrial life behind forever. In other locales, applicants include Jazzmin Hanks, a fertility specialist OB/gyn; her lover, Anjelica Flores, a coroner; Dr. Evangelena Hebert, a vet specializing in primates; Car-leslie Foster, a nurse practitioner; Avery, a culinary specialist in a friends with benefits relationship with Trevathan; and a host of minor characters.
In addition to international interest, two factions are at odds with the radically progressive Compact that is the hallmark of the mission. These radicals have made it their goal to prevent the Tierra del Fuego from leaving the system, and they're prepared to destroy the ship to keep it from launching. Do Trev and her friends possess the courage and skill to save the ship, or will the terrorists destroy the ship that represents dreams of a new social order?
Tierra del Fuego: Colony Ship, published by Dog Ear Publishing, is a fascinating tale full of action and adventure, featuring a host of intriguing, fully realized characters. Set in the not-too-distant future, Tierra del Fuego: Colony Ship explores themes about procreation, family diversity, and the rights of animals with admirable originality. A page-turner for its science as well as its human and creature dynamics, this story will leave readers wanting to know more about Trev Ivins and the prospective shipmates she encounters.
For more information, visit http://www.tierradelfuegocolonyship.com
TIERRA DEL FUEGO: COLONY SHIP
Caron Cro
Dog Ear Publishing
ISBN: 978-160844-803-6 257 pages $12.95 US
Available at Ingram, Amazon.com, Barnes & Noble
and fine bookstores everywhere
About Dog Ear Publishing, LLC Dog Ear Publishing offers completely customized self-publishing services for independent authors. We provide cost-effective, fast, and highly profitable services to publish and distribute independently published books. Our book publishing and distribution services reach worldwide. Dog Ear authors retain all rights and complete creative control throughout the entire self-publishing process. Self-publishing services are available globally at http://www.dogearpublishing.net and from our offices in Indianapolis, Indiana.
Dog Ear Publishing – self-publishing that actually makes sense.
###