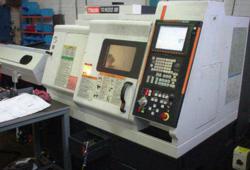 "Imagine reaching 250,000 qualified machine tool buyers with the click of a mouse," Paul Zimmer - President, MMI Auction
Chicago, IL (PRWEB) July 27, 2011
MMI Auction is changing the way used machine tools are bought and sold with its online auction site at http://www.mmi-auction.com. MMI (Machinery Marketing International, LLC) has been in the business of buying, selling and marketing machine tools for over twenty years. In November 2010, the company launched the online MMI-auction.com platform, a new B2B Internet auction service that lets sellers offer inventory to an audience of over 250,000 potential buyers who compete with each other to purchase the equipment. Customers have used the online auction site to buy and sell equipment, including used CNC lathes, horizontal machining centers, vertical machining centers, horizontal boring machines, vertical boring machines, Swiss screw machines, 5-axis CNC machines and more.
Paul Zimmer, president and founder of MMI, noted that, "Our background and resources enable us to help sellers find the right buyer for these machines through targeted marketing campaigns. We can drive over 10,000 prospective buyers to a single listing within our auction, giving each piece of equipment the best chance to sell for the best price." He feels that an auction site specifically dedicated to offering CNC machines for sale is far more effective at generating quality sales than other online auction sites, such as eBay, which sell everything.
Because his company specializes in and focuses on the precision machining and machine tool business, it brings a wealth of experience to these transactions that no other auction site can offer. The company's goals are to maximize the potential reach for clients who want to sell CNC machines, helping them to get top dollar for their inventory, while making a wide range of equipment available and cutting out the unnecessary middleman costs for those who want to buy CNC machines.
MMI hosts a monthly auction featuring as many as 50 machines, with supplemental auctions held at other times depending on the need. One of its specialties is plant liquidations and the sale of surplus machinery. This powerful new B2B Internet auction service offers the convenience of selling used machine tools faster and easier than ever before. CNC machines offered for bid frequently include vertical and horizontal machining centers, lathes and other used equipment from such notable manufacturers as Mazak, Mori Seiki, Okuma and Haas. The next auction begins August 17 at 1 p.m. (U.S. Central time) and already includes lathes, mills and both horizontal and vertical machining centers.
Those who want to sell CNC machines through MMI-auction.com simply sign an online agreement and provide specifications for the equipment along with good quality photos or video. Sellers can choose the standard auction or buy now format and set a reserve price. The company has customer service reps available to provide assistance and answer any questions. It takes less than ten minutes to get the process started and MMI-Auction.com does the rest. The auctions run for two weeks, allowing for as many potential buyers as possible to browse the site for technical specifications, compare equipment, ask questions and submit bids. Both the seller and winning bidder are notified at the close of the auction results. Buyers then arrange for shipping and transfer of funds within five days. Sellers receive full payment before removal.
President Zimmer stated that the revolutionary aspect of this process is that it moves away from traditional sales channels, which can limit sellers' access to buyers, and may not give buyers full access to other equipment options that may be available. Those transactions would typically move slowly and often stalled in mid-negotiation. With MMI-Auction.com, buyers compete for equipment, bids are binding, and there is no last-minute haggling. "Imagine reaching 250,000 qualified machine tool buyers with the click of a mouse," he said. "Now imagine them frantically trying to outbid each other for your equipment. We have created a real-time marketplace that takes all the inefficiencies out of the equation, creating a win/win solution for both the seller and buyer."
All of this occurs within the confines of a safe, secure transactional network. Sellers avoid transfer fees, sales commissions and additional marketing costs while getting top market rates for equipment—frequently up to 60% more than would be realized through the traditional sales channels. With this service, they don't have to deal with multiple sales channels or lose time negotiating with "tire kickers." MMI Auction customers realize the benefits of reduced marketing costs and increased time-to-market because their equipment can rapidly be put in front of highly qualified prospects.
Customers who want to sell CNC machines can use MMI-Auction.com to leverage the power of the web and MMI's worldwide marketing arm to reach the most qualified, most interested audience. All transactions are highly confidential, which is also a great service for those who need to move inventory anonymously—from surplus and remanufactured equipment to outdated inventory. It's also a remarkably easy tool for testing the true market value of inventory under varying market conditions.
MMI has a global reach with strategic alliances in over forty countries. This vast network of buyers and sellers allows the company to facilitate sales worldwide with confidence. Mark Veley, President of World Class Manufacturing Group - Wiza Division. said that, "In the past, I would spend significant time and money finding a qualified buyer for my used equipment, not knowing if I was really getting the most value out of my machine. Now, there were over 11,000 visits to my MMI-Auction.com auction page and hundreds of bids. My machine sold for more than I expected, and I spent zero resources getting it done."
Taken together, this strong B2B Internet approach makes buying and selling CNC machines and CNC equipment more efficient and cost-effective than ever. MMI Auction also reaches over 100,000 buyers of CNC machining centers, making it the best way to get top dollar on inventory. In addition to used Mazak, Mori Seiki, Okuma and Haas machines, other equipment comes from companies such as Kuraki, Hitachi Seiki, Toshiba and O-M.
The company also does conventional deals on CNC machines. They will buy one machine or an entire plant. MMI Auction is located at 1101 W. Monroe #1a, Chicago, IL 60607. Further information on the company, CNC machines for sale / Sell CNC machines / Buy CNC machines, or the online auction site may be obtained by calling 312-226-4150, sending an email to info(at)mmi-auction(dot)com or visiting the company's online auction site at http://www.mmi-auction.com.
###