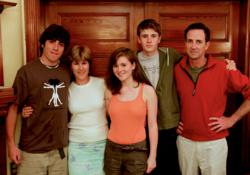 (PRWEB) July 27, 2011
Imagine waving goodbye to friends and family as you board your flight to a foreign place that in a year from now, you'll call your second home.
In the next few weeks of August over 1,000 high school students with the CIEE USA High School program, representing 55 nationalities will arrive in the United States to begin the adventure of a lifetime: a year in America as a high school exchange student. The goal of their program is to improve their English, learn about American culture, and become a part of an American family. While the impact of studying in the United States is life-changing for an international student, the experience for the host family can be equally as rewarding.
For over sixty years CIEE has worked closely with families, communities, and schools to promote international exchange as a way of learning about one another and the world. This past June, through a worldwide contest called 2 Months, 35 Countries, CIEE chose three young and motivated storytellers to embark on an adventure around the globe. Their assignment: to capture the stories of these life-changing experiences. One storyteller, Ezequiel "Eze" Coeli Canobbio from Argentina, was specifically tasked with capturing the story of international exchange students and their American host families.
One June 17th Eze began making his way across America, starting in Yarmouth, Maine where he met with the Walsh family. Nico and Ellen Walsh are currently hosting Nestor, an exchange student from Spain who was granted a scholarship through The Foundation Pedro Barrié de la Maza. While Nestor was initially nervous about living with a host family, he now considers them his own. He shared with Eze stories of participating in family events, and sharing his culture, including traditional Spanish meals. In turn, Nestor has learned about American pop culture, holiday traditions, and in typical Maine fashion, how to eat a lobster.
Nico and Ellen Walsh are no strangers to exchange programs themselves. Their son, Jack Walsh, spent a high school year in Chile through CIEE High School Abroad and a summer in South Korea on the Korea Foundation Scholarship program. Both Jack and Nestor's life-changing experiences abroad have inspired them to continue to participate in future cultural exchange programs. This fall, Jack will return to South Korea through a scholarship to attend Yonsei University for a year. Nestor hopes to study at an American university in the future.
This August more amazing students, just like Nestor, will be arriving in the United States. CIEE USA High School is actively looking for families of all types to be a host family for an international student. With this exchange program, students receive year-long supervision by CIEE Local Coordinators and have the appropriate visa, medical insurance and pay for all of their own expenses, with the exception of food and utilities. The CIEE Support Team is also available 24 hours per day for students, host families, and schools.
For more information about hosting an exchange student, visit http://www.ciee.org/host or call 1-800-448-9944.
About CIEE
CIEE is a non-profit, non-governmental organization based out of Portland, Maine. Their mission is one shared by many in international education: "to help people gain understanding, acquire knowledge, and develop skills for living in a globally interdependent and culturally diverse world." To fulfill that mission, CIEE has been providing outbound international education experiences for university students, faculty, and administrators, and study, work, and internship opportunities for people coming into the U.S for over 60 years. To learn more, visit http://www.ciee.org.
###