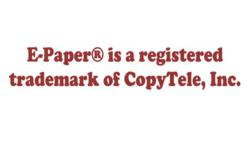 CopyTele Inc., the company that created, introduced and marketed the world's first E-Paper® display in the mid 1990's has licensed its advanced E-Paper® display technology to AU Optronics Corp.
Melville, NY (PRWEB) July 26, 2011
In May 2011, CopyTele (OTCBB:COPY) entered into two (2) separate Technology License Agreements with AU Optronics Corp., a leading flat screen manufacturer. Under the "EPD License Agreement", CopyTele provided AUO with an exclusive license of its E-Paper® display patents and technology for AUO to produce, market and sell products containing the EPD Technology. Under the "Nano Display License Agreement", CopyTele provided AUO with a non-exclusive license of its Nano Display patents and technology, for AUO to produce, market and sell products containing the Nano Display Technology.
These agreements provide for royalty payments by AUO to CopyTele. AUO has also agreed to pay CopyTele an aggregate license fee of US $10 million, of which $3 million was paid by AUO in June 2011 and an additional US $7 million is payable upon completion of certain conditions for the respective technologies.
Our principal operations include:
1. The development and licensing of our low-power passive E-Paper® display (EPD); that has similar characteristics to displays which have created the rapidly exploding e-reader phenomena, an industry only in its infancy. E-Paper® is a registered trademark of CopyTele, Inc. since 2001.
2. The development and licensing of thin flat display technologies, including low-voltage phosphor color displays (Nano Display) which we believe will be faster, less expensive and more efficient than LCD and plasma.
3. The design, development and marketing of encryption software and hardware.
In November 2007, we entered into a Technology License Agreement for our thin, flat, low voltage phosphor, Nano Displays, with Videocon Industries Limited, a multi-billion $USD Indian flagship company of the Videocon Group. Videocon Group is a fully integrated consumer electronics and home appliances enterprise with backward integration in plasma panel, CRT glass, color picture tubes and other key components for the consumer electronics, home appliances and components industries. The Videocon Group has sales and service networks throughout India and operates facilities in Europe and elsewhere in the world.
As text messaging has become an invaluable communications format that is widely utilized for government, commercial and personal correspondence, CopyTele has released the first version of our Android SMS Encryption App (application) called ProtecText™ Lite. The free, easy to use application encrypts and protects Short Message Service (SMS) Text Messages on Android compatible products using cellular communications.
Soon to be released is the ProtecText™ Plus App which adds CopyTele's SMART MEN (Message-Exchange-Notification) system. SMART MEN performs message receipt and message reading confirmation and can recall sent messages. Consumers with Android phones can download and installed ProtecText™ applications directly from the Android Market. Android is currently the fastest growing smartphone operating system in the U.S.
CopyTele has designed and developed a breadth of voice, fax and data encryption products that provide flexible security performance, whether using any of the many satellite phones on the market, while having the ability of using the same or compatible device on cellular and landline telephones.
CopyTele's principal executive offices are located at 900 Walt Whitman Road, Melville, New York 11747. Please contact Mr. Robert Siegler or Ms. Anne Rotondo at 631-549-5900 or info@copytele.com for further information. http://www.copytele.com
Forward-Looking Statements:
Statements that are not historical fact may be considered forward-looking statements within the meaning of the Private Securities Litigation Reform Act of 1995. Forward-looking statements are not statements of historical facts, but rather reflect CopyTele's current expectations concerning future events and results. CopyTele generally uses the words "believes", "expects", "intends", "plans", "anticipates", "likely", "will" and similar expressions to identify forward-looking statements. Such forward-looking statements, including those concerning CopyTele's expectations, involve known and unknown risks, uncertainties and other factors, some of which are beyond CopyTele's control, which may cause CopyTele's actual results, performance or achievements, or industry results, to be materially different from any future results, performance, or achievements expressed or implied by such forward-looking statements. In evaluating such statements as well as the future prospects of CopyTele, specific consideration should be given to various factors, including the following: CopyTele's prior history of losses and negative cash flows from operations; CopyTele's ability to obtain debt or equity financing to continue our marketing, research and development activities, on terms acceptable to CopyTele, if cash generated from operations is insufficient to satisfy our liquidity requirements; CopyTele's ability to commercialize a full-color video display; the possible development of competitive products that could render CopyTele's products obsolete or unmarketable; and other risks as detailed from time-to-time in CopyTele's filings with the Securities and Exchange Commission. CopyTele undertakes no obligation to update any forward-looking statements as a result of new information, unanticipated events, or otherwise.
# # #