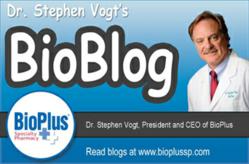 Altamonte Springs, FL (PRWEB) July 26, 2011
BioPlus Specialty Pharmacy has launched a new blog written by the company's CEO and President, Stephen Vogt, Pharm.D. Dr. Vogt's BioBlog provides commentary and information to patients and physicians about developments in the specialty pharmacy world.
Each week, Dr. Vogt will share his perspective and experience with readers about the current advancements and events in specialty pharmacy, as it relates to various chronic illnesses, such as hepatitis, Crohn's disease, multiple sclerosis, cancer, rheumatoid arthritis, and others. Dr. Vogt has deep knowledge and experience in this field; he's worked as a pharmacist providing biologic medicines to patients with chronic diseases for over 20 years. During that time, Dr. Vogt built BioPlus Specialty Pharmacy to become a company based on a new paradigm, one that not only dispenses medicines but also cares for its patients by helping them navigate the difficult process of payment for these expensive but life changing medicines.
"Dr. Vogt's BioBlog is an incredible resource for both patients and physicians. Dr. Vogt's experience, knowledge, and skill in this area give him a unique perspective on new developments in our field," says Dr. Nick Maroulis, Director of Pharmacy Services at BioPlus. "For example, instead of just hearing about a new drug being released, readers of Dr. Vogt's BioBlog will get an understanding of what the new drug will mean to their lives and disease treatment," he adds.
Recent blog topics have included:

The 20 Year Mistake, interview with Chris Biesinger, medical professional who works with hepatitis C patients, and recently participated in Race Across America (RAAM)
I am Pro Coffee, noting the benefits of drinking coffee during hepatitis treatment
Doing Nothing is Not an Option, discussing the prevalence of exposure to the hepatitis C virus in baby boomers
BioPlus has always been an industry leader in high-touch service, responding quickly and directly to patients' needs and concerns. Not surprisingly, then, this blog is not a one-way street. There will be opportunities for readers to post comments and ask questions.
About BioPlus Specialty Pharmacy
BioPlus is a pharmacist-owned national specialty infusion pharmacy company designed to provide high-touch services and specialty pharmaceuticals for patients with chronic diseases such as arthritis, hepatitis C, cancer, and other conditions. Licensed in all 50 states, BioPlus is one of the nation's largest independent specialty pharmacies. Accredited by the Community Health Accreditation Program (CHAP), patients can contact the Pharmacy toll free at 1-888-292-0744.
###