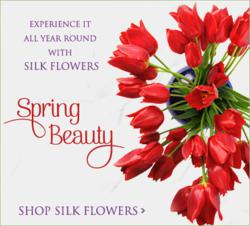 (PRWEB) July 28, 2011
The Silk Flower Store, an exceptional online silk flower delivery service, launches its website which aims to provide the ultimate silk flower shopping experience. Like its array of gorgeous products, the online sales portal TheSilkFlowerStore.com is designed to be both user-friendly and aesthetically appealing, making the selection and sales process an experience in itself. The simple sophistication of the site reflects the superb selection of truly lifelike silk flowers and other silk plants. But having something exquisite doesn't always have to mean 'expensive' — The Silk Flower Store offers its pieces at reasonably affordable and discounted prices, and provides quick shipping and delivery, too. Add major flair and freshness to any home or office with major savings! From luxurious floral centerpieces to refreshing silk trees, The Silk Flower Store lets you enjoy nature's beauty without hassle. The Silk Flower Store prides itself in its great customer service and efficient purchasing options.
Bring the best of nature indoors with a gorgeous arrangement from The Silk Flower Store! More than just decorative pieces, silk plants add stylish comfort and warmth to any living space. Order from The Silk Flower Store.com today and have a unique and enjoyable silk flower experience. You can also call 1-866-932-4859 for quick, hands-on assistance.
###