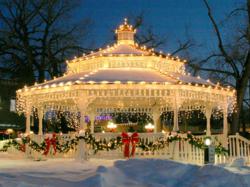 "Where we once delivered, 'beautiful,' now, 'memorable,' is also an expectation in the marketplace." - Tom Tolkacz, Swingle CEO
Denver, CO (PRWEB) July 26, 2011
Swingle Lawn, Tree & Landscape Care says businesses along the Colorado Front Range are getting an early jump on outdoor Christmas lighting and holiday decor plans.
In July, 2011, Swingle Lawn, Tree and Landscape Care noticed an increase in the number of commercial properties scheduling holiday installations and decor consultations.
"We don't usually see quite this much volume this early in the year," said Tom Tolkacz, CEO of Swingle. "Businesses are seeing the benefits of custom lighting displays and many are under increased pressure to set themselves apart during the competitive holiday season."
Colorado residents may now be treated to different hues earlier in the year. "A percentage of the increase in activity is for lighting themed around Halloween and special events our mild climate allows us to hold in the pleasant autumn outdoors," added Tolkacz, who also acknowledged a boost in scheduling and outdoor holiday design activity in the residential sector.
While it is common for commercial properties to plan several months ahead for marketing efforts, Tolkacz advises those who act now are most likely to reap the most benefit. "Scheduling a design consultation in July allows the customer some time to really think through the options of how a custom holiday or event lighting display might work on their property to create a unique experience for their guests," he said. "Where we once delivered, 'beautiful,' now, 'memorable,' is also an expectation in the marketplace."
Swingle's award-winning outdoor holiday lighting displays include annual decor for Blossoms of Light and Trail of Lights for the Denver Botanic Gardens. Benefits of the service model include greatly reducing the hazards and time challenges of hanging and maintaining displays while adding the precision and beauty available only through professional designers. According to Tolkacz, "If a bulb burns out, we come replace it." Another benefit of using a professional tree care company for holiday lights, he said, is, "You know we're taking every precaution with your tree when we're hanging lights in it."
About Swingle Lawn, Tree and Landscape Care
Founded in 1947, Swingle Lawn, Tree and Landscape Care has grown to be one of the most respected residential and commercial landscape care companies in Colorado. For more information, please contact Aaron Dennis at (303) 337-6200 or visit http://www.myswingle.com.
# # #