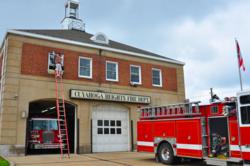 We knew that by installing Stanek Windows into this notable, Village landmark, we would have added value aesthetically coupled with great energy efficiency. Truly, a win-win for our region! - Jack M. Bacci, Mayor of Cuyahoga Heights
Cleveland, OH (PRWEB) July 26, 2011
Stanek Windows is currently recommending property owners of commercial buildings of all types to consider upgrading to vinyl windows with insulated glass. More and more owners are learning that vinyl framed windows are more energy efficient than comparable metal products.
Whether it is offices, manufacturing plants, service related businesses, industrial buildings, schools, nursing homes, houses of worship, apartment buildings, hotels/motels or other buildings used for commerce, Stanek is finding that owners are concerned more than ever with reducing operating costs and improving their building's energy efficiency. The new buzz with financial managers is net operating income (NOI)—or how to reduce operating costs that flow to the bottom line.
"Stanek Windows has completed many commercial projects over the past four years in our Florida, Ohio and Wisconsin locations mostly to owners of properties that we sold windows and doors for their own residence. They realized the importance of vinyl windows and the high quality of our workmanship along with the aesthetics to complement both interior and exterior views," said Rick Jones, President and CEO of Stanek Windows.
For example, Stanek Windows recently installed all new windows in the Village of Cuyahoga Heights, Ohio historic fire station. "The Village Council and I make it a priority to see that our local businesses are made aware of municipal projects and/or purchases where their products/services can be showcased. When our Village was graciously awarded the NOPEC Energy Grant for energy efficiency updates to our Fire Department, we knew that by installing Stanek Windows into this notable, Village landmark, we would have added value aesthetically coupled with great energy efficiency. Truly, a win-win for our region!" said Jack M. Bacci, Mayor of Cuyahoga Heights.
In addition to energy cost reductions and tax savings, commercial property owners also need to consider how to enhance the appearance of their buildings for tenants and customers to the enterprise. Imagine that your buildings are sitting next to a competitor. One has upgraded to new insulated vinyl windows and the other has old unsightly single pane metal or worn out windows—what business/organization is most likely to be contacted? Consider you own a building to rent with the same scenario. Which would a prospect choose—energy efficient windows or old leaky windows with the future of rising energy costs over the term of the lease?
The Energy Policy Act of 2005 offered businesses tax deductions for the costs of improving the energy efficiency of commercial buildings. The Emergency Economic Stabilization Act of 2008 extended the provisions until December 31, 2013.
Energy Star (r) estimates that calculates that a 10 percent decrease in energy use could lead to a 1.5 percent increase in NOI with even more impressive savings figures as energy costs grow. (http://www.energystar.gov)
Vinyl windows with insulated glass offer choices in design, color and glass to improve the overall appearance of the building, reduce energy costs and give tax credits for the property owner. It's a nice savings all around.
ABOUT STANEK WINDOWS
Stanek Windows serves Western Florida, Northeast Ohio and South-Eastern Wisconsin with offices in Tampa/Clearwater, Florida, Cleveland, Ohio and Milwaukee, Wisconsin. The company offers a full line of energy-efficient windows, patio doors and exterior doors, as well as, siding, hurricane shutters and gutter systems. All Stanek Windows are independently tested and certified to area building codes, including impact windows for the strongest Florida hurricane-rated codes. For more information, contact Stanek Windows at 800-4-STANEK or visit http://www.StanekWindows.com.
###