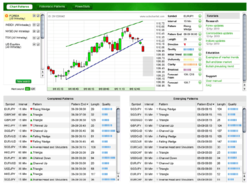 Autochartist provides an essential analysis tool for our clients
(PRWEB) July 27, 2011
Autochartist is the world's most advanced tool for the automatic identification of Chart and Fibonacci Patterns identified in real-time while markets are open. Their proprietary technology allows scanning of thousands of financial instruments 24 hours per day and automatically uncovers trading opportunities as they occur. Traders are alerted of pattern formations within minutes.
Erik Voges, COO of Autochartist.com said "We are proud to welcome Synergy FX to our community of broker partners. With benefits such as straight through processing, multi-bank liquidity, no dealing desk and peace of mind we are confident that the affiliation between Autochartist and Synergy FX will grow from strength to strength, and be a be a win-win experience for customers all-round taking into account the many benefits Autochartist has to offer traders."
All features of Autochartist can now be delivered to the Synergy FX MetaTrader 4 application via a custom plug-in which links seamlessly to the Autochartist application. With a simple drag and drop of a script the Autochartist web application will launch automatically in a new window. No need for users to sign on again.
Piers Cracknell, Executive Director of Synergy FX, comments "Autochartist provides an essential analysis tool for our clients, providing them with real-time trade opportunities. Today's forex traders demand an all round service and we continue to reach beyond the traditional brokerage offering"
About Synergy FX
As an Australian owned business, Synergy FX is licensed and regulated by ASIC. Clients of Synergy FX are guaranteed peace of mind as funds are held in segregated bank accounts.
Synergy FX provides online forex trading services to forex traders using the MetaTrader 4 platform. Through our multi-bank liquidity – with up to 20 major banks competing for your trade you will enjoy a constant deep pool of liquidity and tight pricing. Synergy FX provides interbank pricing with straight through processing and no dealing desk to individual traders, money managers and institutional traders.
About Autochartist.com
Established in 2004 and currently serving end users in over 80 countries, with more than 2,000,000 charts viewed per month, Autochartist.com is the market leader in automated technical analysis services for retail traders. The Autochartist suite of tools services many of the world's largest financial institutions and has become one of the world's best known brands in technical analysis.
###