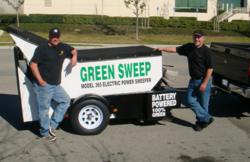 Nearly silent and 100% green, the Green Sweep is the ultimate sweeper, hauler and all around property maintentance tool.
Rialto, CA (PRWEB) July 26, 2011
Green Sweep announces the introduction of the versatile, all-electric Green Sweep mobile sweeper. Company founders Art Zanini and Richard Pickens designed the Green Sweep to perform a wide variety of critical property maintenance functions for small to medium sized properties, such as school campuses, apartment complexes, business centers and retail developments. Green Sweep addresses the unique demands of these types of properties, including street sweeping, trash and debris hauling and providing a mobile power source for other maintenance equipment.
Towable, Near-Silent Operation
Green Sweep is constructed on a perfectly balanced trailer platform, so it is towable by any car, light truck, golf cart or electric maintenance cart. It is 100% battery-powered, so operation is nearly silent. This allows Green Sweep to be used during business or school hours without disruption to tenants, students, visitors, staff or shoppers.
Powerful Spinning Brooms and Electric Bin
In addition to its powerful 40" main broom, Green Sweep also features a 22" side broom to ensure all dirt, garbage and debris is cleared from even the tightest curbsides. Trash and debris hauling is a facilitated by its high capacity, fully contained bin. The Green Sweep bin can hold up to 8,000 lbs, and its electric lift can dump up to 4,000 lbs. Green Sweep's bin is engineered to be at the perfect height for hassle-free dumping into standard Dumpster containers. Plus, the durable snap-on cover ensures that contents stay inside the bin—not on your property.
Portable Power, Anywhere It's Needed
Green Sweep features a built-in inverter and retractable power cord, so AC power is available anywhere Green Sweep goes. The heavy duty retractable 50' extension cord can be used with blowers, trimmers, hedgers, lighting or other equipment—greatly expanding the value of Green Sweep for maintenance professionals
Founded by two professionals with over 50 years' combined experience in battery-powered vehicles and equipment designed, Green Sweep is American made and backed by a 1 Year 'Bumper-to-Bumper' Warranty. It is a professional-grade sweeping, hauling, dumping and mobile power source that can be purchased for less than the cost of a one-year contract with a commercial street sweeping service. Green Sweep is perfect for any school, church, apartment complex, business center or retail park.
To find out more about Green Sweep, please visit GoGreenSweep.com or call (909) 731-4060.
###