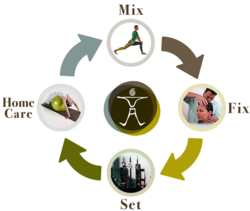 unique program that directs patient through four key stages toward faster recovery and better health.
Seattle, WA (PRWEB) July 26, 2011
The 4-step method, named the "Mindel Method" after Dr. Scott Mindel, seattle chiropractor and owner of Belltown Spine & Wellness who created it, draws on the latest rehabilitation techniques, combining them into a unique program that directs patient through four key stages toward faster recovery and better health.
The first stage ("Mix") focuses first on identifying abnormal posture and neuromuscular dysfunction, then on warming up the spine and soft tissues to prepare the spine for realignment. Patients use Mirror Image® Exercises to activate the muscles, tendons and connective tissues in the direction opposite of their abnormal posture, "unlocking" it for realignment.
In the second stage ("Fix"),seattle light therapy (Quantum Neurology® Rehabilitation) is used to strengthen weak spinal nerves. Dr. Mindel, who is certified as a Quantum Neurologist, gently taps a cold laser along the patient's spine to stimulate weakened nerves and set the foundation for correcting the patient's spine and posture deviations. Then the patient's spine is adjusted using mechanical instruments and specialized chiropractic tables that enhance the precision and the effectiveness of the chiropractic adjustment.
The third stage ("Set") incorporates specialized equipment and exercise to help reinforce the adjustments. Patients may engage in various forms of spinal traction, body weighting, spinal decompression therapy, vibration therapy and spinal molding. In the fourth stage ("Home Care"), a customized exercise program is created for the patient to perform at home to enhance the care received at Belltown Spine & Wellness Center.
This 4-step method has been a successful part of Belltown Spine & Wellness for several years, but only recently has light therapy been a central part of the program.
"We have found that since implementing Quantum Neurology® Rehabilitation/light therapy into our 4 step program, our patients are recovering from pain and chronic injuries faster than anything I've ever seen in my past 20 years in chiropractic," said Dr. Mindel. "I believe that this new blend of techniques is on the cutting edge of pain management and seattle chiropractic therapy."
About Belltown Spine & Wellness
Serving Seattle and the Belltown district, Belltown Spine & Wellness has helped thousands of people over the past 17 years regain their health and vitality through their natural, integrated approach to health and wellness. Their services, which include chiropractic and rehabilitation therapy, massage therapy, acupuncture and naturopathic medicine, are customized for the individual patient.
###