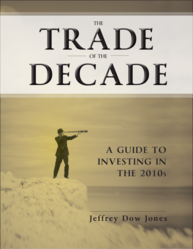 Our strategy should feel natural to most investors -- it's designed to capitalize on the ongoing contraction of consumer credit and a slow-moving economy. It boils down to investing in things people need and avoiding the things people don't.
Reno, NV (PRWEB) July 26, 2011
In the last decade the world has witnessed tremendous volatility.
Even more uncertainty lurks in the next.
Never has it been so difficult to be an investor.
In The Trade of the Decade, hedge fund manager and popular newsletter writer Jeffrey Dow Jones cuts through the confusion about the future and highlights some of the powerful trends that will shape the economy to come. The result is a sensible, flexible investment strategy that's easy to implement – whether you're an investor at home or an industry professional.
"Industry professionals are armed with a range of strategies and information that the average investor isn't aware of," the author says. "My goal was to share some of these secrets and draw a roadmap that's easy enough for any investor to follow."
Through his light-hearted and humorous tone, Jeffrey tackles some of the most sophisticated concepts in investment strategy and breaks them down for the layperson. The Trade of the Decade is fun and easy for amateurs to read yet conceptually rich enough for financial experts to find useful.
Availability:
The Trade of the Decade: A Guide to Investing in the 2010s is available today through Amazon's Kindle book store ($3.99, link, ASIN: B005E1P2EE). It is also available as a PDF download directly through the author's website (http://www.TheDraconian.com).
About the author:
Jeffrey Dow Jones co-manages a family of hedge funds at Jones & Company and Draco Capital Management. Jones & Company is registered with the SEC as a Registered Investment Advisor (RIA) and has been trading the markets since 1984. Jeffrey graduated from UCLA with a degree in Business Economics and a minor in computer programming. This is his first book and he writes a free weekly investment newsletter at http://www.TheDraconian.com.
To arrange an interview or schedule a speaking engagement, contact the author directly at Jeffrey(at)JonesFunds(dot)com.
###