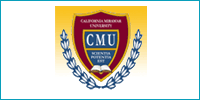 Educating tomorrow's business leaders today
San Diego, CA (PRWEB) July 28, 2011
California Miramar University President Dr. Dominic Mwenja is currently leading discussions on leadership in Hanoi, Vietnam for students in the Masters of Business Administration Program. Dr. Mwenja is addressing leadership in the business world, and the role of business in transforming the economic landscape of Vietnam. Vietnam's greatest natural resource is its people and American institutions of higher learning like California Miramar University are committed to help in the development of Vietnam's current and future leaders.
The MBA program trains Vietnamese business and governmental leaders. The format is geared for working professionals who are therefore able to implement the leadership strategies into the organizations in which they work. In the 21st century, country economic boundaries are quickly disappearing and the need for leaders who appreciate a diversity of ideas, thoughts, management and leadership styles, as well as regional and national cultures, continue to increase. Dr. Mwenja explains: "Without the training in leadership and management in all areas of business, the Vietnamese manager would be unprepared to lead and manage a 21st century organization."
Students are reporting their willingness to develop a learning culture within their organizations thereby making organizational learning a key strategy within their organizations. Dr. Mwenja explains, "The training these leaders receive at California Miramar University has prepared them to become effective managers and leaders and to continually add value to their organizations. At the same time, students are able to make significant contributions to the country's economic growth and development."
As the technological advancements of the 21st century continue to improve how organizations function, the development of the human capital will remain the single most important resource of any organization or country. By focusing on the development of human capital, the cooperation between American and Vietnamese institutions of higher learning will continue to be one of the most important contributions to the national economic development of Vietnam. Fueled by low labor costs, flexible labor practices, and internal capacity building, Vietnam will become a major player in the international marketplace within a few years. California Miramar University motto is "Educating tomorrow's business leaders today." CMU is proud to be contributing to the leadership education and knowledge of the business leaders of Vietnam.
ABOUT:
California Miramar University is an ACICS & DETC accredited university located in San Diego, California. CMU offers Associate, Bachelor's, Master's and Doctorate degree programs in Business Administration. You can check out all Online MBA Programs. CMU is popular for its affordable year round accredited online MBA programs. In addition to online formats, we also offer all programs in both hybrid and on-campus settings.
# # #