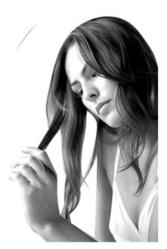 Women, even those known for being the most beautiful, are not spared when it comes to the threat of balding
Miami, FL (PRWEB) July 26, 2011
It's no surprise that as men age, there is a bigger and bigger chance that they'll start balding. By age 35, two-thirds of men experience some hair loss. What some people may find surprising is that many women also suffer from hair loss. Over 60 million Americans have thinning hair and about half of all people have thinning hair by age 50. Hair thinning in women begins earlier than in men and it also differs in patterns. Men tend to bald around the crown of the head and at the forehead. Women, on the other hand, lose hair at their hairline and all over the head.
Nioxin, a line of hair products to prevent and treat hair loss, is sold at the lowest prices at TheBeautyPlace.com.
Often times, hair loss is a result of genetics but it may also be caused by other preventable factors such as stress, nutrition, medications or hair styling. An unhealthy lifestyle and stress weakens the roots of your hair, causing scalp damage and, ultimately, hair loss.
Ready to hear something that probably never crossed your mind? Many of the fabulous and glamorous models that strut the runway deal with issues of hair loss and thinning hair. Many of the models from this month's Mercedes-Benz Fashion Week depend on hair regrowth supplements to maintain hair health. Over time, the constant hair styling, coloring and blowouts damage models' hair. Using hair regrowth supplements like the Nioxin Intensive Therapy Recharging Complex will help to prevent the damage that may lead to balding.
Look into other ways of stimulating hair regrowth overall using Nioxin. Nioxin has 8 different 3-step hair loss treatment systems tailored to different types of thinning hair. Each of the systems includes a Nioxin Cleanser (a shampoo), Nioxin Scalp Treatment (Conditioner) and a Nioxin Scalp Therapy (Leave in treatment). If you need to style your hair, Nioxin even has some thin-hair-friendly styling products like mouse and gels called Nioxin Volumizing Reflectives or Nioxin Smoothing Reflectives. TheBeautyPlace.com sells Nioxin at some of the most competitive prices.
Nioxin hair regrowth products may take anywhere between 1 to 6 months to show results. While you wait to see results, use a thinning-hair concealer like Toppik Hair Fibers as a temporary fix. Toppik Hair products come in 8 different shades to provide a good match for all the common hair colors. Toppik is made from an all-natural protein Keratin fibers (same as human hair) and provides instant volume and the most natural looking head of hair. Most people suffering from hair loss or thinning hair choose Toppik as their favorite product in concealing this condition.
TheBeautyPlace.com is a leading online retailer of professional beauty products for your hair and skin care needs. Find some of the industry's top beauty brands at extremely competitive prices. Hair products offered by TheBeautyPlace.com range from professional flat irons to products for hair loss. Quality skin care products address skin concerns from anti-aging to acne-prone skin.
Follow TheBeautyPlace.com
On Twitter: @TheBeautyPlace
On Facebook: TheBeautyPlace.com Fan Page
On LinkedIn: Linkedin.com/companies/thebeautyplace.com
TheBeautyPlace.com Blog: Blog.thebeautyplace.com
http://www.thebeautyplace.com/nioxin/
###