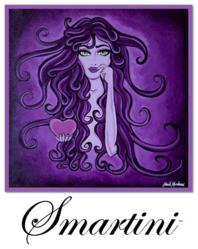 I am LOVING your mixers! I'm so happy that I can drink my favorite cocktails and margaritas and still watch my liquid calories! Great product!
Colleyville, TX (PRWEB) July 26, 2011
Smartini™ Cocktail Mixers, a line of sugar free, low calorie, low carb, and gluten-free cocktail mixers, were born in a suburb of Dallas, Texas and are fast becoming the smart choice for fit-conscious social drinkers. Smartini went into production in October of 2010 and is quickly making its way into bars, restaurants and package stores around the United States. Smartini is a product of Texas-based Lola's Libations.
Unlike many other low-calorie cocktail mixers, consumers do not have to sacrifice delicious aromas and flavors when they choose Smartini. After countless in-store taste tests, Smartini is the apparent choice in satisfying the palettes of all who have tried any one of the Smartini flavors.
Smartini offers a wide variety of mixers to create the cocktails that are most in demand. Mixers include: Margarita, Lemon Drop, Mojito, Sweet Texas Tea, Pomegranate, Green Apple, and Caliente Texas-tini plus two base mixers: Sweet & Sour and Simple Syrup.
At only 1¼ calories per ounce, Smartini is the best tasting, guilt-free cocktail mixer option. Naturally sweetened with Stevia, cocktails made with Smartini mixers contain less than 100 calories per drink (with 80 to 90 of those calories being derived from the alcohol). A good example of this is found by comparing a traditional (non-sugar free) margarita to a Smartini Margarita. A traditional margarita packs a whopping 450+ calories whereas the same size Smartini margarita has around 96 calories.
Leigh Ann Rodriguez, the creator of these delicious mixers and founder of Lola's Libations, began a diet which ultimately resulted in a 55 pound weight loss. Her weight loss program restricted carbohydrate intake, however, the program did not completely restrict drinking alcohol. This was the perfect excuse to concoct Smartini! Leigh Ann's entrepreneurial spirit kicked in and she began to think seriously how she could help others in the same predicament in which she had found herself: wanting to succeed on her weight loss program without feeling as though she was cheating with every sip.
"My kitchen was my first test tasting lab. I experimented with the help of family and friends until I felt certain that every sip offered the most robust and flavorful experience," explains Leigh Ann. "I want to share my creations with others and let them know that cheating on their diets does not have to be detrimental to their success of losing weight. Cheating can be fun."
Lola's Libations is committed to helping nonprofit organizations that promote well-being. Currently, with every bottle of Smartini Cocktail Mixer sold, a donation is made to fund research for Ovarian Cancer and Alzheimer's Disease.
Visit http://www.lolaslibations.com for more information and cool cocktail recipes plus a list of locations where consumers can find Smartini Cocktail Mixers. Smartini can also be found on Facebook and Twitter.
About Lola's Libations, LLC
Lola's Libations, LLC is the company behind Smartini™ – the first and best name in sugar free cocktail mixers made with Stevia. Based in Colleyville, TX, Lola's Libations is a Texas-owned and Texas-run company. The label artwork (The Temptress) was designed by an up-and-coming Dallas artist, the bottle labels are produced in east Texas, and the product is co-packed in Dallas. Lola's Libations has had the honor of sponsoring a variety of fund raising events such as: the Second Annual Emmitt Smith Celebrity Invitational which raised funds to create unique educational experiences and enrichment opportunities for under-served children via the Pat & Emmitt Smith Charities (PESC); the 15th Annual Wish Night Gala for the Make a Wish foundation which grants the wishes of children with life-threatening medical conditions; as well as local events such as Burgers for Babies which benefited Cook Children's Hospital.
###