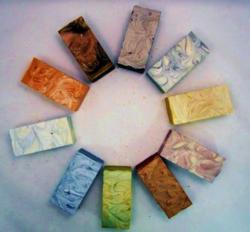 GoatMilkStuff.com has expanded from a regional customer base to a national network of home-based distributors to an expanding global internet market.
New York, NY (PRWEB) July 26, 2011
NBC-TV's Today Show spotlighted how PJ and Jim Jonas and their eight children, ages 4 to 14, have built Goat Milk Stuff into a thriving family business marketing all-natural goat milk soaps and other products made on their small Indiana goat farm.
With customers across the USA and worldwide, the Jonas business grew from the founder PJ's hobby making chemical-free soaps for her children into the business http://www.GoatMilkStuff.com. The website offers a complete line of reasonably-priced goat milk soaps, body lotions, lip balms, bath products, shaving cream, laundry soaps, stain sticks, and more.
Mike Leonard, the acclaimed correspondent of the #1-rated morning talk show, reported in Today's Leonard's Look series how the family went from using their goats' milk as a nutritious drink for the Jonas children to providing the general public with what he called "a moisturizing, skin healing soap."
Leonard reported that in just two years, GoatMilkStuff.com "has expanded from a regional customer base to a national network of home-based distributors to an expanding global internet market."
He added that Goat Milk Stuff enables the family to have a family business where the children are "literally underfoot to observe and absorb the lessons that come from personal responsibility, cooperative behavior, creative play and, of course, hard work."
Discussing the growth of Goat Milk Stuff, PJ (Patricia) said, "The Jonas family combines old fashioned values and high-tech tools to market all-natural, wholesome, homemade goat milk soaps." These products are sold through an expanding global online business that provides their brand to customers across the USA and as founder PJ proudly says about the steady growth, "Our soaps are actually on all seven continents."
Each of the children has an age-appropriate job, from milking goats and bagging soaps to answering customer emails and caring for the family's herd of Alpine goats. The goats are each treated as pet and pal by the Jonas kids who have named them and know their distinct personalities.
PJ, a former engineer, and Jim, a former middle school science teacher, met at the University of Virginia and are well-qualified to conduct homeschooling classes for their children who study math and science, Bible and literature, among other subjects.
Newspapers and magazines have written about the Jonas family's time-tested values and TV and radio shows have also featured the Jonas story.
In addition to GoatMilkStuff.com, the Jonas business maintains an active social media presence with a growing following on Facebook at http://www.Facebook.com/GoatMilkStuff, YouTube at YouTube.com/GoatMilkStuff and on Twitter at Twitter.com/GoatMilkStuff.
Goat Milk Stuff™ is based in Charlestown, Indiana, and markets natural goat milk soaps. Goat Milk Stuff™ and GMS™ are trademarked brands and assure the finest quality of product and value. Look for Goat Milk Stuff™ Goat Milk Soaps, GMS Lip Balms, GMS Lotions, GMS Bath Bombs and GMS Laundry products that are environmentally-friendly and produced, marketed and priced responsibly to offer consumers the finest Goat Milk Soaps and related bath products in America.
Online at http://www.GoatMilkStuff.com, the Jonas' company markets a full range of products that are quickly shipped directly to consumers. The Goat Milk Stuff™ website also lists retail stores across America where shoppers can find Goat Milk Stuff™ products. For media, licensing and entertainment, contact Brian Dobson at DobsonPR.com or bd(at)dobsonpr(dot)com.
###