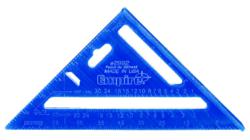 "As the fifth generation family member to serve as president of Empire Level, I have made it my mission to manufacture as much as possible in the USA," said Jenni Becker, President of Empire Level.
Mukwonago, Wisconsin (PRWEB) July 25, 2011
Empire Level Manufacturing Corporation has been quietly and deliberately focusing on making high-quality measuring tools that can be manufactured cost-effectively on American soil, resulting in an increase of 20 percent of its revenues coming from "Made in USA" products versus five years ago. Eighty percent of Empire Level's products are now manufactured and assembled entirely in the United States.
"As the fifth generation family member to serve as president of Empire Level, I have made it my mission to manufacture as much as possible in the USA," said Jenni Becker, President of Empire Level. "This company was built on innovation, and we decided that we could innovate our way back to our 'Made in USA' roots, through a combination of revolutionary product design and original, patented manufacturing processes. That 'can-do attitude' is part of our DNA and we have been very successful in our efforts to bring our products home."
Today, the premier line of Empire Level products, known as True Blue® levels and squares, are nearly all made in America, including one of its best-sellers, the True Blue Rafter Square (model e2992), which is produced at the company's headquarters in Mukwonago, Wisconsin, because of a product design innovation. The e2992 is made of high-visibility blue anodized aluminum, which is a superior product to competitors on the market and can be produced more efficiently in the company's own facilities than it could be overseas. Other best-selling and industry-leading Empire Level products that are made entirely in the USA include the em51.48 True Blue I-beam Level and the em81.9 Heavy-duty Magnetic Torpedo Level.
"Our vertically-integrated manufacturing facilities are a key reason that we have been able to achieve the production innovations that allow us to efficiently produce many of our best-selling levels and squares from start to finish on our 6-acre campus," said Becker. "Most of our competitors are doing the exact opposite. They're taking quality out of the product, moving more and more product to China, and gutting the value to the consumer. We intend to continue innovating our way back to producing every possible part of every product the American way."
The Made in USA commitment has allowed Empire Level to retain a relatively steady workforce, with a steady increase over the last two years, despite the economic downturn that was so devastating to other manufacturers. "We're very proud of our employees and there is a mutual loyalty among our crew that you don't see everywhere," said Becker. "Our employees are a lot like our customers – they appreciate quality products and they prefer to buy American-made products. We're happy to be the ones who can give them that option," she added.
Empire Level's proprietary customer research has shown that over 60 percent of professional contractors prefer to buy tools that are made in the United States, and are even willing to pay more for them. A 2009 Yankelovich study found that about 40 percent of consumers from all demographic age ranges – Millenials, Xers, Boomers and Mature adults – have a strong preference for buying products that are made in USA, and almost 70 percent consider buying American products as part of their duty as U.S. citizens.
About Empire Level (http://www.empirelevel.com)
Empire Level is the home of TrueBlue® - the most accurate vials in the world. The blue fluid in Empire level vials is a unique symbol of superior accuracy and a trademark of Empire Level Mfg. Corp. For over 90 years, Empire has been the leading designer and innovator of accurate and durable measuring tools for the professional and end user. Empire Level manufactures 80 percent of its products in the United States on a 6-acre campus in Mukwonago, Wisconsin. More information about Empire and its products can be found at: http://www.empirelevel.com.
###