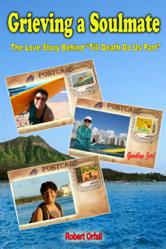 A useful guide to end-of-life issues and a profound reflection on their meaning.
Minneapolis, MN (PRWEB) July 26, 2011
Can soulmate grief be captured on YouTube? Can a video trailer capture the devastating grief associated with the death of a lover? According to author Robert Orfali, YouTube can be a powerful medium for discussing grief. He says, "My YouTube book trailer puts a human face on this complicated topic." Surprisingly, this four-minute video was able to capture the essence of what the book is all about. With almost 25,000 views and counting, Orfali may be onto something.
In his recently-released book Grieving a Soulmate: The Love Story Behind "Till Death Do Us Part," Robert Orfali takes on this difficult and very personal topic with courage, out-of-the box thinking, and deep love. Ranging from the practical to the emotional––and frequently blending the two––Orfali's style of writing makes a difficult topic easier to manage. He writes in an easy style that is analytical, yet speaks from the heart. The content is thought-provoking, unique and original. It's your gentle and informed guide to the deep grieving that accompanies the death of a soulmate. This book should help a surviving soulmate (or spouse) quickly overcome the red-hot pain of grief. It also tells you how to reconstruct your life, find meaning, and deal with the big existential issues from a secular perspective. It's a survival guide for the last stages in a soulmate relationship.
"Orfali writes in a straightforward, often bullet-pointed style, but infuses it with intellectual seriousness and emotional depth. The result is both a useful guide to end-of-life issues and a profound reflection on their meaning. A heartening testament to the ability of love to transcend loss." — Kirkus Discoveries
Robert Orfali and his soulmate of thirty years, Jeri Edwards Orfali, were both in the computer software field in the early days of Silicon Valley. They co-authored three best-selling software books and together went on several world tours to promote their technology. Jeri was diagnosed with ovarian cancer, in 1999, shortly after they moved to Hawaii. Jeri and Robert spent the next ten years fighting Jeri's cancer and learning how to live with it. Jeri even learned how to surf during her chemo years. She went from "Silicon Valley Executive Woman of the Year" to "Waikiki Surfer Chick." Jeri received one of the most moving surfer funerals ever. Her ashes are in the ocean at Waikiki.
Paperback: 280 pages
Publisher: Mill City Press, Inc. 
ISBN-10: 1936400669
ISBN-13: 978-1936400669
Paperback list price: $14.95
E-book list price: $ 6.99
Book and e-book available from Amazon, Barnes and Noble, Apple Store, and others.
E-book formats including Kindle, iPad, iPhone, Nook, Android, and others.
Book website: http://www.GrievingaSoulmate.com.
###