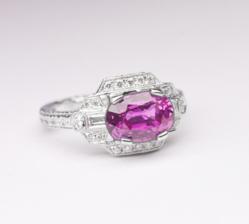 Marin, CA (PRWEB) July 27, 2011
The Ross Goldsmith in San Anselmo has announced a special promotion to highlight the pink sapphire engagement ring collection: the entire collection of pink sapphire design engagement rings is on sale for 25% off.
William McBride, Ross Goldsmith owner and jewelry designer, specializes in custom design diamond engagement rings. However, he also loves pink sapphires. And, after years of collecting, he says that he has one the finest collection of pink sapphires available in Marin County.
Many people think that sapphires are blue. But the Ross Goldsmith explains that sapphires come in every color. "And when they are red," McBride says, " they are called rubies." What defines a ruby as a ruby is simply that its color can be called red. McBride jokes, "If it is dark pink, you can have a debate: if you are buying, it's a sapphire, if you are selling, it's a ruby." Non-traditional stones are becoming more popular as unqiue and expressive engagement rings.
###