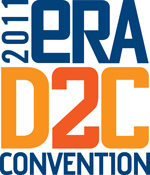 "We have put together an outstanding panel featuring four leading industry experts...."—Julie Coons, ERA President & CEO
Washington, D.C. (PRWEB) July 26, 2011
Broadcast television has been the lifeblood of the direct response industry for more than 25 years. Yet given the Internet's tremendous societal influences along with the technological advancements that continue to lure television viewers, many in the industry are asking: Will there be television in 2020? That's exactly what Julie Coons, president and CEO of the Electronic Retailing Association (ERA), will address when she moderates the Premier General Session: The Future of Television on Wednesday, Sept. 14th, 9:00 a.m. – 10:00 a.m., at the 2011 ERA D2C Convention at the Wynn Hotel, Las Vegas.
Joining her will be thought leaders John Barnes, president of Mercury Media; Mike Fitzsimmons, CEO of Delivery Agent Inc.; Aaron McNally, head of sales – TV Ads Group at Google Inc.; and Kevin Svenningsen, senior vice president, media tracking services, expanded services at The Nielsen Company, who will shed light on the technology and trends that are changing the way marketers view television and how they connect with their audience.
"We have put together an outstanding panel featuring four leading industry experts, representing direct-to-consumer marketing, media, interactive television and online," says Coons. "I'm certain our D2C audience will be enlightened by their insights into today's changing television landscape, and eager to ask the panel their own thought-provoking questions."
John Barnes is president of Mercury Media Santa Monica and is responsible for leading the strategic direction and day-to-day operations of the West Coast practice. He has over 25 years' experience leading both full-service advertising agencies and diversified media companies. Over his career, he has run the communications programs for such leading marketers as P&G, J&J, Kodak, Nabisco, New Line Cinema, Jenny Craig, Dish Networks, CBS and Lifetime, to name a few. Prior to joining Mercury, he served as Managing Director of Carat, West.
As Delivery Agent, Inc.'s founder and CEO, Mike Fitzsimmons has developed and commercialized the only multimedia platform that connects viewers with products seen on and related to their favorite television shows, movies, sports, and music videos. Under his leadership, Delivery Agent has become the leader in shopping-enabled entertainment, and was named the No. 1 Privately Held Media Company of 2008 by Inc. magazine. Prior to founding the company, Mike led product marketing and business development for Something Now, Inc., which was acquired by CNET Networks in 2001. He currently serves on advisory boards for Jumpstart (http://www.jstart.org) and Loudmouth Golf.
Aaron McNally is the head of sales for the TV Ads group at Google, Inc., joining the company in May 2007. He manages a large team that is responsible for recruiting agencies and advertisers to use the Google TV Ads platform, an online marketplace for buying, selling and measuring TV advertising. Prior to Google, Aaron was vice president, international, at DIRECTV, Inc. During his tenure, he launched and developed DIRECTV'sWorldDirect service. Aaron graduated cum laude from the University of California, Los Angeles with a B.A. in Communication Studies. He also has an M.B.A. from the University of California, Berkeley.
Kevin Svenningsen is senior vice president – media tracking services, expanded services for The Nielsen Company. In this role, Kevin is responsible for driving sales to a diverse client base, setting the direction for product development, and expanding into new market segments. Prior to this position, he was senior vice president and managing director for Nielsen's Local Television Client Services organization, where he held responsibility for sales and marketing for the local business. He also served as senior vice president, sales and marketing for the Nielsen Agency, Broadcast and Syndicator Service (NABSS).
For more information or to register, please visit http://www.D2Cshow.org.
About the 2011 ERA D2C Convention
The Electronic Retailing Association's 2011 ERA D2C Convention is the 21st annual show where the industry's top technology innovators, manufacturers, buyers and marketers meet to learn about the hottest trends in the direct-to-consumer marketplace and meet with partners and potential customers to seal critical business relationships. The event will feature more than 4,000 attendees and 120 exhibitors, a variety of education sessions on industry-related topics and expansive networking opportunities, as well as wide variety of events on the tradeshow floor. For more information, please visit http://www.D2Cshow.org.
About the Electronic Retailing Association
Representing a more than $350 billion market, the Electronic Retailing Association (ERA) is the only trade association in the U.S. and internationally that represents leaders of the direct-to-consumer marketplace, which includes members that maximize revenues through electronic retailing on television, online and on radio. ERA strives to protect the regulatory and legislative climate of direct response, while ensuring a favorable landscape that enhances e-retailers' ability to bring quality products and services to the consumer. ERA members include some of the industry's most prominent retail merchants, including Acorn Corporation, eBay, Discovery Communications, Gaiam, Google, Guthy-Renker Corporation, HSN, Jewelry Television, QVC, ShopNBC and Thane. For more information about ERA, please visit http://www.retailing.org.
# # #