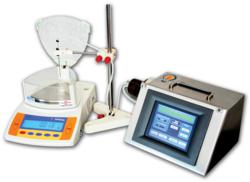 As our requirements have changed over time, I was pleased to learn that Intellitech has kept in step with their innovation and product development. The i-FILL Micro was delivered just in time to meet a new micro liter filling project
Westminster, MD (PRWEB) July 27, 2011
Intellitech, leading provider of precision liquid filling & capping machines for biotech (reagent filling, cell therapy, biologics), pharmaceutical (liquid filling) and specialty chemical filling, now offers the i-FILL Micro, the latest addition to the i-FILL family of precision liquid dispensing pumps for filling 10µL to 10mL.
The newly released i-FILL Micro can be used for bench top filling of micro vials, tubes and other small volume containers – or can be integrated into fully automatic liquid filling machinery.
Ron Telford, President of Moss Industries shared "We have worked with Intellitech since 2005 and have come to expect solid performance from their equipment. As our requirements have changed over time, I was pleased to learn that Intellitech has kept in step with their innovation and product development. The i-FILL Micro was delivered just in time to meet a new micro liter filling project."
"The i-FILL Micro continues to build our family of pumps and the range of volume fills that we can provide for our customers with the same outstanding accuracy, repeatability and ease of use" remarked Intellitech's president, Barbara Biller.
With over 80 installations worldwide since 2002, Intellitech customers rely on innovation and product development to support their changing liquid packaging requirements.
ABOUT MOSS
MOSS Inc. specializes in producing ImmunoAssay Reagents including Liquid Stable Substrates and Conjugates. Since 1990, MOSS has manufactured these products in bulk and supplies them to leading OEM's worldwide. For more information, call (800) 932-6677.
ABOUT INTELLITECH
Intellitech, Inc. products include the modular i-FILL® family of precision pumps (rated "Superior" for dispensing accuracy & repeatability), i-CAP® package closure systems, intelliFILLER™ line of liquid fill/finish solutions and intelliFLEX® wash down conveyors for the bio-tech, pharmaceutical and specialty chemical industries. With over 80 installations worldwide since 2002, our products are satisfying customers through their ease of use, expandability and reliable performance. To learn more about Intellitech's family of products, call 866-434-5548 or visit us at http://www.intellitech-inc.com.
###