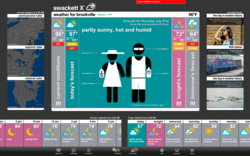 swackett® is the simplest, most easy to understand, most accurate weather forecast available.
Brookville, PA (PRWEB) July 26, 2011
AGLogic is delighted to announce a new version of swackett®, the wildly popular weather app for the Mac. Dubbed swackett X™, this new version of swackett® is "loaded with all the Xtras that our users have requested over the past 6 months." says product manager C. Scott Gilbert. "Our customers spoke. We listened carefully, and then got to work. The result? swackett X™."
swackett X™ Features

Completely Ad-Free
Current Conditions Windows: Shows current weather conditions for all of your locations at a glance (summary and detail views)
This Day in Weather History: Interesting weather-related historical facts and images
Flickr Integration: The most interesting or most recent photographs near your locations can now appear with your weather reports
The swackett Weather Menu: Shows the current temperature in the menu bar with easy access to highs and lows for the next 7 days
Longer Radar Animations: 3-hour radar loops (where available)
Watches and Warnings Count: Now available in the Dock
Bonus Edition: The 1950′s Edition is included free with swackett X!
A Surprise Inside!
swackett X™ is the first version of swackett® to take advantage of new features available in Mac OS X Lion, including full-screen mode, where for the first time all swackett® interface objects (peeps, weather timelines, radar imagery) are available on a single screen; and multi-finger gestures for more interactive viewing. swackett also supports in-app purchases for new swackett Editions, including the new Little Peeple Edition™, and features a new toolbar for better readability and a new app icon.
About swackett®
swackett® is a whole new way to look at the weather. We convert complex weather data to easily-understood, visual weather reports designed for people of every age. Our unique approach is to combine raw weather data (current conditions, radar, and detailed forecasts) with thoughtfully crafted people symbols (called "peeps") who always appear appropriately dressed for the weather.
If it happens to be cold outside, swackett® peeps appear dressed in winter hats, coats and boots. A hot, sunny day? swackett® peeps appear wearing shorts and sunglasses — and they even remember to bring along drinking water and sunblock. Rain? swackett® peeps appear with rain jackets and an umbrella. This is a fun, fresh and truly useful weather report experience for people of any age.
swackett® does include detailed weather information for the weather junkie (including AccuWeather "real feel" temperatures, humidity, dew point, wind direction and speed, weather timelines, animated satellite and radar imagery) but our forecasts are tailor-made for the time-starved person who needs essential weather information fast.
swackett® weather reports can be viewed by any member of the family, including the very young and very old, those with disabilities — anyone who might be short on time and in need of a quick, easy-to-read weather forecast.
Summary
swackett® is the simplest, most easy to understand, most accurate weather forecast available.
Availability
swackett® is a free app available exclusively via the Mac App Store. swackett X™, an ad-free version of swackett®, is available for $2.99 and is packed with special Xtras, including support for Mac OS X Lion.
More Information
http://www.swackett.com/v1/?p=1451
###