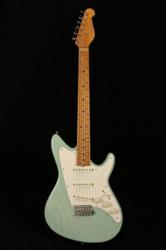 Portland, Oregon (PRWEB) July 27, 2011
ProGuitarShop is proud to announce the arrival of Grosh Guitars. These innovative guitars are built from the ground up with originally conceived designs for a completely unique instrument. Even though they may resemble some of the best selling classic American guitars, each and every Grosh is built one-by-one and the designs are completely from scratch. From the classic S-style double cut Retro Classic to the completely original Grosh ElectraJet and beyond to the Set Neck, each instrument yields the perfect blend of modern playability and form with a pleasing vintage aesthetic and vintage-inspired tone.
Not only has Don Grosh created completely original designs, each and every one is loaded with Grosh custom wound pickups. These pickups were painstakingly researched and developed to reproduce the classic tones of some of our favorite pickups while adding extra dimension and girth. The result? Classic tone with the modern clarity, depth, dynamics, and bite that today's guitarists need. These pickups are the perfect complement to Don's unique builds allowing Grosh Guitars to have superior tone right out of the box.
The most exciting model to grace the website of ProGuitarShop is the Grosh ElectraJet. These original design guitars sport a classic aesthetic that brings to mind some of the popular American guitars of the 50's and 60's combined with modern features like flatter fretboard radius and choice of frets for a fantastic blend of vintage and modern. Each and every aspect of the Grosh ElectraJet is designed from the ground up with tone-tapped woods, ultra thin nitrocellulose lacquer finish, and custom designed Grosh pickups for the ultimate in tone and playability.
ProGuitarShop is known for having a wide selection of boutique instruments, amps, and effects as well as a top-notch staff and unparalleled customer service. Grosh Guitars is the perfect addition to an already stellar selection of gear and PGS is excited to be offering these top of the line instruments to their customers.
###