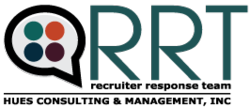 The recruiter Response Team service takes the burden of closing the loop of Recruiters' plate, gives candidates much needed closure, and gives a boost to employer brands.
Atlanta, GA (PRWEB) July 26, 2011
Hues Consulting & Management Inc. (http://www.huesconsulting.com), a global recruitment consulting firm based in Atlanta, recently introduced a solution to bring the human element back to recruiting and provide some relief to overworked recruiters. For a monthly fee, the Recruiter Response Team™ allows companies to outsource their candidate follow-up obligations, close the gap in communication AND preserve their employment brand. Whether candidates have just applied for a position, or they've gone through the interview process, Response Agents provide feedback and close the loop with candidates about the disposition of their candidacy. They give the much needed personal touch that busy Recruiters can't give, and candidates long for while preserving your company's brand identity.
"Job Seekers are mad as hell and they're not going to take it any more" says Adrienne Graham, Recruitment Consultant and CEO of Hues Consulting & Management Inc.
The current job market is predictably sluggish. According to the Wall Street Journal, frustrated candidates feel ignored and disrespected by hiring companies. Recruiters are overwhelmed and are not making things better by not communicating with candidates. Employment brands (including the well-known) are suffering and causing damage to the overall brand.
In this current job market, a counter letter or email telling them they didn't make the cut isn't enough. Take a look at any of the comments left by frustrated job seekers on career articles on blogs and news outlets. "People are fed up with the lack of communication. They feel disrespected, minimized and ignored. It seems companies are forgetting that human element" says Graham. Candidates are increasingly becoming more fed up and disillusioned with the recruiting process. They are tired of submitting resumes and applications without ever hearing a response from the company. It's hard enough not hearing anything when you first submit an application. But to go through the entire recruiting process and not hear a peep from recruiters is beyond frustrating...it's rude.
Recruiters struggle to maintain communication with the enormous amounts of candidates that apply for open positions each day. On average, most positions get a minimum of 100 applicants within the first day of posting a position. That number goes up each week the longer a position is left posted. "Over worked recruiters have a high number of jobs they work on at any given time, so they don't always have the luxury of being able to respond to every applicant. But that's no excuse and can damage an employer's brand".
The Recruiter Response Team service takes the burden of closing the loop off of recruiters' plate and gives candidates closure (along with respect and dignity) so they know not only when it's time to move on, but also what they can do better going forward with other interviews and leave the door open to have them come back and apply for opportunities later on. It helps build and strengthen the employment brand and builds good relationships with candidates, and turn them into a source for referrals.
For more information or a consultation, please contact us (866) 779-4830.
About Hues Consulting & Management Inc:
Hues Consulting & Management Inc (http://www.huesconsulting.com) is a boutique diversity recruitment consulting firm specializing in Contract & Project Recruiting, Interim Executive Placement, Diversity Recruiting, Retained Executive Search, Process Development, Strategy Consulting, Recruitment Process Outsourcing (RPO), Recruiter Training, Sourcing Services, Candidate Response Services, Employment Branding and ATS Implementation. Headquartered in Atlanta, GA, we are a fast growing firm with clients throughout the United States and abroad. We serve companies that are fully funded start ups, small to mid sized companies on a growth pattern and larger (including Fortune 500) companies specializing in technology, manufacturing, engineering, finance, biotechnology, aviation, energy & power, environmental, paper & pulp, water/wastewater, mining, chemical & petro, sports and healthcare. Our mission is to deliver top diverse talent so our clients can retain & cultivate them within their organization to compete in a globally diverse society; prepare companies to successfully compete for talent through improved recruitment strategies and processes; and help recruiters improve their craft and add value to their company.
###