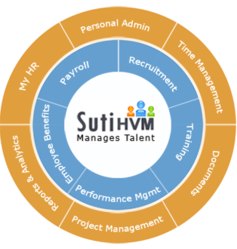 "SutiHVM is a 21st century solution that contains all the essentials for human resource and talent management within an organization." – said N.D. Reddy, founder and CEO of SutiSoft Inc.
Los Altos, CA (PRWEB) July 26, 2011
SutiSoft Inc., a trusted provider of Software as a Service (SaaS) and enterprise solutions, today announced the release of SutiHVM 2.0 it's robust online / enterprise solution for identifying candidates, recruiting and retaining them. The easy to use, web-based solution eliminates manual effort, time delays, paper and administrative costs. SutiHVM improves process control, workforce efficiency, payroll accuracy, compliance with regulations and adherence to company policies.
SutiHVM allows Human Resource Managers to define flexible compensation & benefit plans, identify skill gaps and plan appropriate training, thereby rewarding top performers and increasing retention rates.
"SutiHVM is a 21st century solution that contains all the essentials for human resource and talent management within an organization." – said N.D. Reddy, founder and CEO of SutiSoft Inc.
SutiHVM provides HR Managers with the flexibility to configure the solution to meet their requirements.
Recruitment
Identify and track vacancies in the organization. Find candidates from various sources and hire the best talent.
Training
Onboard new hires quickly and allow them to easily adapt to the organization's culture. Identify the need for training and develop training plans to match required competencies.
Performance Management
Evaluate the performance of employees using various techniques and identify appropriate compensation.
Employee Benefits
Identify and administer benefit plans applicable to employees and contribute to increased employee retention.
Personal Admin
Capture and maintain various employee details. Also identify and monitor employee on-boarding and off-boarding tasks.
Time Management
Track employee hours and attendance reports from multiple time & attendance systems and facilitate faster processing of payroll.
Payroll
Calculate employee payroll using time sheets, absence reports, deductions and other applicable details.
Documents
Manage access to various on-boarding and off-boarding tasks related documents, work instructions, guidelines etc from a single interface.
Project Management
Identify and track all projects in the organization, clients for projects and technologies used.
Reports & Analytics
Extensive reports and analytical dashboards enable users to track various activities in an employee hire-retire cycle and increase process effectiveness.
My HR
Employees can view and manage additional information such as PTO, training, appraisals, etc from a single interface.
SutiHVM is available in multiple versions: Small Business, Professional, and Enterprise. Visit http://www.sutihvm.com for more pricing and more information.
About SutiSoft Inc:
SutiSoft Inc. is a privately held company founded by N.D. Reddy, a successful Entrepreneur with over 30 years of experience in both the Hardware and Software industry as a Founder, and CEO. The Company's leading edge enterprise/SaaS application software products range from business productivity solutions such as Electronic Signature, Expense Management, Document Control Systems, Governance, Risk and Compliance, Security Solutions and others. The company's products are developed using Java, Flex, AJAX, HTML5 and other cutting-edge technologies which allow SutiSoft to retain its core values which are Simple, Scalable, Secured, and Seamless. Headquartered in Los Altos, California USA, SutiSoft has offices in Northern California, India, Germany and Japan. Additional information is available at http://www.sutisoft.com.
###