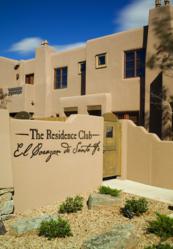 Fairmont Heritage Place owners value our distinctive collection of exquisite properties around the globe...El Corazon de Santa Fe is a great addition to our portfolio. -David Shaklee, VP, Residential Development Fairmont Raffles Hotel International
Santa Fe, NM (PRWEB) July 26, 2011
The Residence Club at El Corazon de Santa Fe, Santa Fe's only downtown fractional ownership property, announces its forthcoming assumption of management by Fairmont Heritage Place, an exclusive private residence club offering from global luxury hotel brand Fairmont Hotels & Resorts.
The private residence club development will join Fairmont's growing collection of premier locations, over 200 luxury homes and more than 2,000 homeowners worldwide. In addition to joining Fairmont Heritage Place, members will enjoy enhanced amenities including an expanded clubhouse and reception area, a new owners' fitness area, a private owners' park and furniture and fixtures in the Club's Residences will be refurbished.
Additionally, existing and future owners at the Residence Club will be invited to participate in Fairmont's Ownership Benefit Program, including membership in the Fairmont President's Club, a recognition program designed around members' personal travel passions, including exclusive access to many special events and other opportunities.
"This is a wonderful opportunity for both the current and future owners at the Residence Club at El Corazon de Santa Fe. We're very excited about becoming part of Fairmont's prestigious Heritage Place collection," said Rob Harper, property developer with Unity Hunt, Inc., based in Dallas, Texas.
David Shaklee, Vice President, Residential Development, Fairmont Raffles Hotels International said, "Fairmont Heritage Place owners value our distinctive collection of exquisite properties around the globe that offer unique experiences, yet consistently excellent hospitality. El Corazon de Santa Fe is a great addition to our portfolio."
Starting in the mid-$100,000's, the Residence Club at El Corazon is a fractionally owned residential property. Buyers receive a deed for a one-eighth undivided interest in a beautiful, fully furnished residence. Because this is true deeded ownership, ownership interests can be sold, willed, deeded or placed in a trust, just like any other form of real estate. However, unlike conventional real estate, ownership in the Residence Club provides exclusive owner privileges and benefits in Santa Fe's highly desirable downtown location. The Residence Club at El Corazon de Santa Fe offers its owners all of the benefits of ownership and more at a fraction of the cost of traditional ownership.
Santa Fe is one hour north of the Albuquerque International Sunport and is world renowned as a special place to visit, live and to retire. Three hundred twenty five days of sunshine and Santa Fe's limitless cultural and recreational attractions make Santa Fe an ideal place to enjoy second home ownership in a stimulating environment. With a population of 68,000, and established over 400 years ago, Santa Fe combines small-town charm with the sophistication of a world-class destination. Consistently in the top 5 favorite cities in America, Santa Fe holds a powerful appeal for those who love arts and culture as well as the outdoors, offering everything from its world-class Opera and sophisticated culinary scene to fine art galleries and beautifully groomed golf courses, skiing, and fly-fishing.
Fairmont Heritage Place is a leading operator of private residence clubs. Featuring luxury home developments in world-class destinations like San Francisco, Telluride and Acapulco, Fairmont Heritage Place combines the impressive amenities and attentive service of Fairmont Hotels & Resorts with the luxurious comforts of an elegant private retreat. Fairmont Heritage Place owners, as well as being able to enjoy their own homes, can utilize their allotted time at other Fairmont Heritage Place locations around the world. They also have the unique opportunity to enjoy exchange privileges at Fairmont and Raffles worldwide collection of distinctive hotels and resorts, including landmark properties like the newly restored Savoy hotel in London, The Fairmont Banff Springs in the Canadian Rockies, and Raffles Hotel in Singapore.
About Fairmont Heritage Place
Fairmont Heritage Place, the private residence club division of the global luxury hotel company Fairmont Hotels & Resorts, is a collection of extraordinary residences offering vacation home ownership in some of the world's most sought after locations. Whether perched 10,000 feet up a mountain, at the base of the ski slopes, a toe's length from a barefoot stroll along the beach, or part of an urban oasis, Fairmont Heritage Place properties are exquisite in their luxurious décor and design. With uncompromising attention to detail, the finest comforts of home and a true reflection of the local destination, each property offers privileged access to an array of personalized services and amenities ensuring owners and guest feel at home. For additional information please visit here.
Fairmont is owned by FRHI Holdings Limited, a leading global hotel company with 100 hotels under the Fairmont, Raffles, and Swissôtel brands. The Company also manages Fairmont, Raffles and Swissôtel branded Residences, Estates, luxury private residence club properties, and serviced residences.
For more information regarding The Residence Club at El Corazon de Santa Fe, please visit here or call 866 721 7800.
For press inquiries, please contact:
Jennifer Hobson
JLH Media
505 603 8643
Jennifer(at)jlhmedia(dot)com
# # #