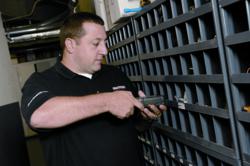 Chicago, IL (PRWEB) July 26, 2011
Grainger (NYSE: GWW), North America's leading broad line distributor of facilities maintenance products, today announced recent enhancements to its KeepStock® suite of inventory management solutions. The updated and expanded portfolio builds on the company's experience assisting customers with inventory management by providing a variety of solutions that are as unique as a business' operations.
"Our research shows that improving inventory management processes can help businesses reduce spending by as much as 25 percent," said Deb Oler, Vice President and General Manager, Grainger Brand. "The key to maximizing your savings is finding the right inventory management solution to match your needs. Our dedicated Grainger staff takes time to understand a customer's business and then works closely with them to identify the KeepStock solution that will drive the most cost savings."
Grainger's KeepStock portfolio helps businesses and institutions improve usage and control of products ranging from saw blades to safety glasses to power tools to cleaning supplies. The company first introduced packaged inventory management solutions to the U.S. in 2006 and has continued to evolve and expand the offering based on customer feedback. The updated KeepStock portfolio offers a wide variety of solutions that address very simple needs to highly complex inventory management requirements. KeepStock includes several Customer Managed Inventory (CMI) options that allow customers to better manage inventory themselves and Vendor Managed Inventory (VMI) solutions in which Grainger assists with ordering and put away.
Recent KeepStock portfolio enhancements include:
-- KeepStock Label – A low tech, low-cost solution that allows customers to print informative labels directly from Grainger.com to help identify, organize and manage inventory. Businesses can also create online inventory lists for faster identification of materials and simple reordering.
-- KeepStock Scan–Through this solution, customers manage their own inventory with a Grainger provided scanner and labels. The solution offers online reporting that details order history so customers can easily analyze their purchasing behavior. KeepStock Scan also gives customers access to a dedicated Grainger KeepStock Specialist to support their ongoing needs.
-- KeepStock Mobile – A mobile solution that utilizes Grainger-provided scanning software to help customers manage inventory that moves, such as supplies in a service truck or van.
-- KeepStock Secure – Best known as a "dispensing" solution, KeepStock Secure features an optimized vending machine with carousel technology that allows for significantly more product to be stored at one time. Grainger provides complete project management of the machine implementation, including planning, transportation, installation, onsite training and replenishment services.
-- KeepStock Onsite– A Grainger representative visits a customer's facility to scan and maintain inventory onsite. The solution is integrated with Grainger.com so orders can be placed in real-time.
Grainger also offers KeepStock Track, a barcode inventory control system, and KeepStock Store, a Grainger operated and fully stocked branch located onsite at a customer's facility. Many of the solutions across the portfolio also include detailed activity reporting capabilities illustrating purchase order history.
"Our organization did not effectively manage the wide variety of products that are needed to run our operations, so we turned to Grainger to explore what services were available," said Eric Sandford, Director of Supply Management for OmniSource Southeast. "Grainger stood out to us because they offer a full suite of solutions and after understanding what our needs were, Grainger identified that its onsite services would be an effective solution to start with and within one year of implementation, we were able to reduce our MRO spend significantly. After having success with KeepStock Onsite, we have most recently added Grainger's dispensing offering, KeepStock Secure, to our inventory management strategy and have already started to realize benefits."
To learn more about Grainger's KeepStock suite of inventory management solutions, visit: http://www.grainger.com/KeepStock
About Grainger
W.W. Grainger, Inc. with 2010 sales of $7.2 billion is North America's leading broad line supplier of maintenance, repair and operating products with an expanding presence in Asia and Latin America.
About KeepStock®
KeepStock® is a suite of facilities maintenance inventory management solutions developed by W.W. Grainger to help facility managers reduce inventory and procurement process costs. The solutions include KeepStock Label, KeepStock Scan, KeepStock Mobile, KeepStock Track, KeepStock Secure, KeepStock Onsite and KeepStock Store. Information about Grainger's inventory management solutions can be found at http://www.grainger.com/KeepStock.
###