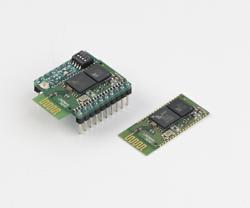 "The RB4000 family's low cost and reliable connectivity make it the ideal OEM solution for a number of industrial uses," says Tsau. "Our response from M2M providers has already been outstanding."
San Jose, CA (PRWEB) July 27, 2011
Radicom Research announced today the launch of its new RB4000 and RB4000HM Bluetooth modules for short-range wireless data connectivity. Manufactured to fulfill OEM needs for embedded short-range communication in products, the low-cost modules act as RS232 cable replacement and offer an affordable, easy alternative for wireless point-to-point communication across distances up to 60 feet.
Featuring Serial Port Profile (SPP), the RB4000 Series is a full Bluetooth system solution with an integrated controller, antenna and Bluetooth transceiver. Utilizing the BlueCore4-External Chipset from CSR, the leader in Bluetooth chipsets, these Class 2 modules are Bluetooth V2.0 +EDR (Enhanced Data Rate) compliant for increased throughput, reduced battery consumption, and improved security. The result is faster pairing and superior performance, even in the presence of interference from 802.11 (Wi-Fi) wireless devices or other 2.4 GHz radios.
"The RB4000 family's low cost and reliable connectivity make it the ideal OEM solution for a number of industrial uses," says Tsau. "Our response from M2M providers has already been outstanding."
Designed for integration in barcode readers, medical devices, and other monitoring systems, the RB4000's low power consumption and extreme operating temperature range (–40°C to +85°C) provides flexibility across a number of industries and situations. With 8Mbits of flash memory onboard, OEM specific parameters can easily be uploaded for customized configuration. The RB4000HM-c model includes a U.FL connector built for flexible antenna placement for additional customization.
"Bluetooth data connectivity is more critical than ever when it comes to device flexibility," says Tsau. "The RB4000 family makes this happen, all at an affordable price."
Model RB4000 (surface-mount PCB module with on-board antenna), RB4000HM (through-hole module), and RB4000HM-c (built-in U.FL connector) are available now with prices starting at US$9.00 for the RB4000 in quantities of 500 pieces. Bulk discounts are available for higher OEM volume requests. Customized OEM specifications and private labeling are welcome. For more information, visit http://www.radi.com.
Features:
· Bluetooth V.2.0+EDR support
· Small sizes: 0.57" x 1.26" x 0.08" (RB4000)
· Low power consumption: <1mA (sniff mode), 45mA (transmit)
· Class 2 radio, 4dBm transmission power
· Delivers up to 700Kbps data rate (basic rate) for distance to 60 feet
· 40°C to +85°C operating temperature
· Serial Port Profile (SPP) support
· Secure simple pairing support
· Baud rate speeds up to 921.6Kbps
· GAP, SDP, L2CAP and RFCOMM embedded stack profiles support
· 8Mbits flash memory on board
· Secure communications with 128-bit encryption
· Onboard antenna (RB4000) or antenna connector (RB4000HM)
installed
· Support 802.11 wireless co-existence
Applications:
· Cable Replacement
· Medical Devices
· Barcode Readers
· M2M Communication
· Barcode Scanners
· Measurement & Monitoring Systems
About Radicom Research, Inc.
Founded in 1993, Silicon Valley-based Radicom Research develops reliable, high quality, simple to implement dial-up and wireless modems, all competitively priced.
With local and offshore manufacturing capabilities, Radicom specializes in designing and manufacturing embedded modem modules for OEMs. The award-winning modems can be customized to meet specific requirements or fulfill special needs.
OEMs and product designers are invited to contact Radicom Research for consultation and help in implementing these state-of-the-art Wi-Fi modem modules to efficiently meet their system applications.
Phone: 1-408-383-9006, ext. 112; Fax: 1-408-383-9007; Email: sales(at)radi(dot)com; Website: http://www.radi.com.
###