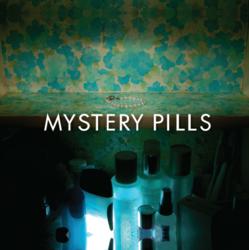 No one really knows who we are or what to expect from a band from South Dakota anyway.
Rapid City, SD (PRWEB) July 26, 2011
An anonymous new indie pop band known as Mystery Pills have wrapped up work on their debut single Anti-Pattern, the first in a planned series of single releases. Each will contain two songs that will be unveiled during a Kickstarter 7-inch campaign. The campaign for Anti-Pattern and its B-side Vital Signs wraps up August 5, 2011 at 3pm MDT.
The two tracks, which were produced by the band and mixed by Stuart Sikes (Walkmen, White Stripes, Cat Power), highlight the group's penchant for blending different instruments and studio techniques to create the impression that their music is being generated from an automated electromechanical source.
"Even though we're trying to make things sound electronic, we're generally using real instruments," says the band's spokesperson. "We really only use samplers and synthesizers to approximate some instrument or machine that is too impractical to use or too expensive or hard to find." The pop song structures rely heavily on hooks and vocal melodies that provide a strong emotional counterweight to the precise ticking of the instrumentation. The result is a sound that might have been someone's idea of the pop music of the future 50 years ago.
Beyond the instrumental and temporal ambiguities, a desire to provide an acousmatic listening experience lies behind the band's decision to remain anonymous. "If we come right out and tell people who's playing what, their brains immediately begin to mentally arrange people on a stage and put instruments in their hands. If we use the standard indie rock storyline and tell people about how we recorded in the attic of our grandmother's cabin on the beach, those are just more visual details that peoples' brains start to fill in that distract it from the sonic elements we're hoping they will focus on." For a new band from the middle of nowhere the consequences are minimal since anonymity is practically a given. "No one really knows who we are or what to expect from a band from South Dakota anyway."
Mystery Pills plans to use the singles project as their primary outlet, though the band won't rule out the possibility of eventually working on an entire album or touring. For now they're content to refine their sound, post new music to their website, and let the public decide whether or not physical copies should be made available. "We'd love to call this a 7-inch project and press records for every new single, but we'd probably go broke pretty fast. Luckily something like Kickstarter exists that lets us test peoples' response to new songs before diving in."
Anti-Pattern and Vital Signs are currently streaming on the band's webiste: http://www.mysterypills.com, where listeners can also find information about the Kickstarter campaign, which ends August 5, 2011.
###