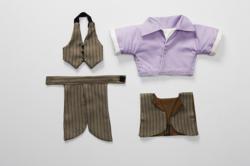 Italian Wool Suit, fully lined, cotton shirt, black buttons. All jazzed up, made in the USA.
Detroit, MI (PRWEB) July 30, 2011
Jewel Postell and Company takes a bold approach to even the playing field. Women of all personalities with a sincere desire to construct a powerful bond within a loving relationship can now purchase intimate apparel for their men. Jewel Postell's "For Play" is a patented lingerie line for men. Perfect for a honeymoon or date night, Jewel Postell intimates "For Play" promotes intimacy, instilling and stimulating distinctive, long-lasting memories. Each authentic and unique design discards the mundane, embraces the avant-garde, promotes sexuality, piques a woman's imagination, heightens the foreplay experience and increases originality in the bedroom.
Jewel Postell and Company's "For Play" clothing line launches men's intimate apparel into the 21st century. The quintessential honeymoon or date night attire, each piece is designed to meet the needs and tastes of various men. Jewel Postell, "For Play" adopts an avant-garde approach, creating patented, authentic, unique and sexy men's lingerie, designed to promote intimacy and evoke memorable experiences in the bedroom. Passion and intrigue keep the romantic fire ablaze. To strengthen these elements, original concepts are applied to each Jewel Postell "For Play" design. Depending on the mood he wants to create and the woman he yearns to satisfy, a man can now choose the gear he wants to wear.
###