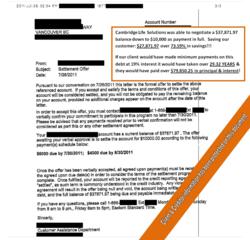 British Columbia, Canada (PRWEB) July 26, 2011
Cambridge Life Solutions proudly announces client graduation from the program. Cambridge Life Solutions successfully negotiated $42,254.65 in debt down to $11,700 as payment in full. The client saved over $30,554.65 off of the balances they owed. The client saved over 72.28% and received the fresh start they desperately needed; all achieved within a 6 month program.
Had the client continued to make minimum payments on this debt, it would have taken them over 29.32 Years and they would have paid over $88,788.72 in principal & interest; based on a 19% interest rate.
Cambridge Life Solutions capitalized on the "bulk settlements" method and achieves the greatest savings on behalf of their clients.
Cambridge Life Solutions provides this analogy: if asked to buy only 1 apple compared to someone who said they wanted to buy 300 apples, who do you think would get the better price per apple? Usually the person buying the greatest quantity gets the greatest savings. The same rules tend to apply for Cambridge Life Solutions.
If a person contacts their creditor and asks to settle their $10,000 balance they might on average get 15 - 20% off, saving $2,000 dollars overall. That person would still need to pay $8,000 back to their creditor. Now imagine Cambridge Life Solutions contacts that same creditor mentioning they also represent 100 clients holding that same card, each owing $10,000 and all together collectively owe $1,000,000 outstanding! Typically that creditor is going to offer Cambridge Life Solutions greater savings; in the range of 40 - 70%, maybe even more.
The methodology is simple because its a win-win for Cambridge Life Solutions clients and their creditors. In the analogy above each client could end up saving over $7,000 each and the creditor is pleased because they received $300,000 in overall outstanding debt owed between 100 clients as payment in full. "Buying in Bulk" or "Settling in Bulk" is a very effective tool Cambridge Life Solutions uses to achieve the greatest savings on behalf of their clients.
###