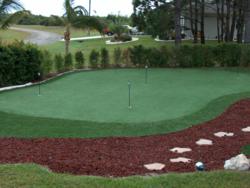 "Their service helped XGrass get CAD Drawings in all the correct and consistent formats to make specifying our products easy; we feel its a win for our customers"
Dalton, GA (PRWEB) July 27, 2011
The long list of benefits associated with using synthetic grass has allowed this grass alternative category to grow by leaps and bounds. XGrass has been at the forefront of the industry ever since it started selling putting greens in 1998. Their product line has expanded to cover a variety of applications and the challenge has always been to get the right information in front of those who could benefit from it; primarily landscape architects, designers, city planners and other members of the landscape community. Once XGrass saw the service available from CADdetails.com, they new it was a perfect opportunity to better serve potential customers.
XGrass, with the assistance of the CADdetail staff, built their main page that includes product information, specs, and drawings for various brands and product lines including XGrass Lawn, XGrass Play, XGrass Golf, XGrass Sport, XGrass Pet and their newest line: XGrass Enviro. "CADdetails was the perfect choice to logically organize our technical drawings and product specifications in one place to provide easy access for the growing number of CADdetail members," commented Ron Bennett, President of XGrass. "Their service helped XGrass get CAD Drawings in all the correct and consistent formats to make specifying our products easy; we feel its a win for our customers," he went on to say. Interested professionals can get to the XGrass page by searching through the CADdetails site (membership is free) or from a link on the XGrass website.
In addition to high quality synthetic turf, XGrass has a wealth of experience both in choosing the right product for the job and making recommendations on installation. They handle many of the installations in house and have a team of consultants available to assist in specification. "We hope that the addition of our CADdetails listing will give our customers another convenient way to gather the needed information to make a good decision when it comes to turf," Steve White, XGrass Owner said. "It will be one of the first places we put information when we develop new products," White concluded. Currently XGrass is working to expand their network of installers to meet the demand. Their synthetic turf products have certain characteristics that others don't, including their patented Duraflow backing that is 100% recyclable. XGrass will continue to be an industry leader service and product development. The XGrass listing on CADdetails will go a long way in bringing these leading products to market.
About XGrass
XGrass services the entire U.S., Canada, and Mexico providing a wide variety of synthetic turf products for golf course projects, residential putting greens, safety surface for playgrounds, athletic fields, and commercial landscape applications. Based in Dalton, GA, we provide project consulting and turnkey installation services in addition to our premium synthetic turf products.
###